Leathes Prior is delighted to welcome four new joiners to the firm.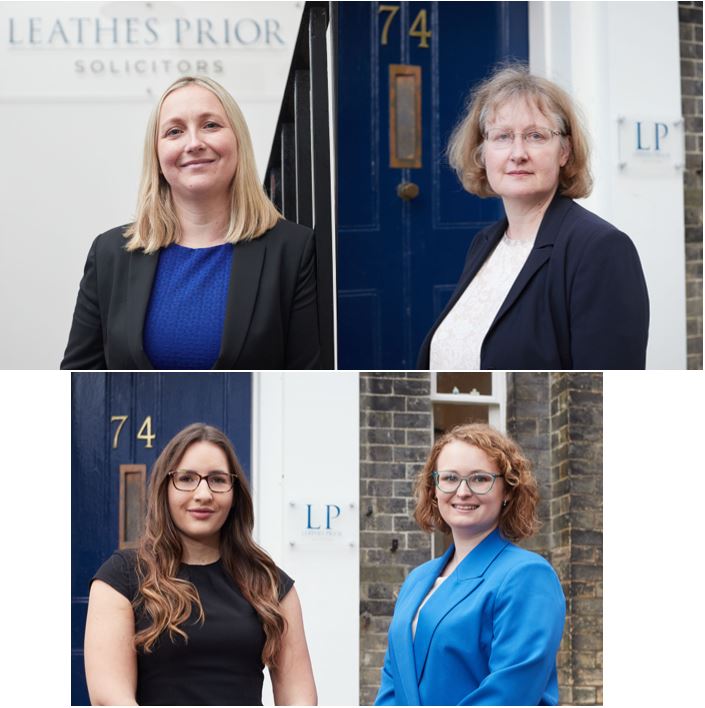 ---
Leathes Prior's property teams continue to grow, with the recruitment of Rebecca Millard, Helen Jones and Madison King.
Rebecca Millard has joined the firm's Commercial Property Team as an Associate. Rebecca specialises in commercial landlord and tenant work and has experience of working with individuals and companies in growing their business assets, in addition to assisting corporate investors with portfolio management. Rebecca's experience will continue to assist the team in providing the very best service to our clients across the region and future afield.
Lucy Whipps, Partner in the Commercial Property Team said,
"I am absolutely delighted that Rebecca has joined our Commercial Property and Agriculture team. Rebecca brings a wealth of property investment experience (gained with one of the largest commercial landlords in the UK) to our full service property offering. This expertise will help us continue to provide our clients with commercial, sensible and timely advice so they can efficiently achieve their property aims and aspirations."
We have welcomed two new property lawyers into the firm's growing Residential Property Team, both Helen Jones and Madison King.
Helen brings with her a wealth of experience dealing with a variety of property work including sales, purchases, remortgages, transfers of equity and other property related matters. She prides herself on her professional and friendly approach, keeping clients informed of progress along the way.
Madison King joins the firm's Residential Property Team as a Paralegal alongside studying her CILEX CPQ. She joins to strengthen the growing team as her career develops, to ensure we can continue to provide clients with the highest possible level of service throughout their residential transactions.
Stephen Wilson, Partner in the Residential Property Team said,
"With Helen's wealth of knowledge and experience, this will no doubt benefit our clients and the team, Helen is a very exciting addition to the firm. In her short period with us, Helen has been able to demonstrate her technical expertise and build a very good rapport with clients and colleagues.
We are also delighted to bring Madison to the firm to continue our growth and meet the market demand. I am looking forward to seeing Madison continuing her personal progress with us. As well as dealing with residential matters, Madison brings to the department her experience in working with national developers to assist our growing new build team."
We are also excited to announce that Lisa Robinson has joined the firm's Regulatory & Criminal Defence Team as an Associate, bringing with her over 18 years' experience of advising and representing clients on a variety of criminal matters. Lisa is a member of the Law Society's Criminal Litigation Accreditation Scheme, the quality standard for practitioners in criminal law.
Howard Catherall, Partner and Head of the Regulatory & Criminal Defence Team said:
"There has been a growing demand for our discrete and specialist service over the last 18 months and we are therefore absolutely delighted that a solicitor with Lisa's reputation and experience has chosen to join our team".
The team will continue to be supported by Kirsty Chaplin, who has been promoted to the position of Paralegal after joining in the summer as a Legal Assistant. Kirsty graduated last year with a first class honours degree from the University of Law, with a particular focus on criminal defence litigation.
Howard commented:
"Kirsty's development as a member of the team has been impressive, using in particular the skills which she gained through her voluntary work with the Witness Service whilst completing her degree. Promotion to Paralegal reflects her caseworking role and is very well deserved".
We are delighted to welcome these new starters to Leathes Prior as the firm continues to grow. These new starters will continue to strengthen the firm's offering and boost client service further. We wish them all the best of luck with their careers here at LP.