Proudly sponsoring the eagerly awaited 'Oktoberfest' at OPEN Youth Trust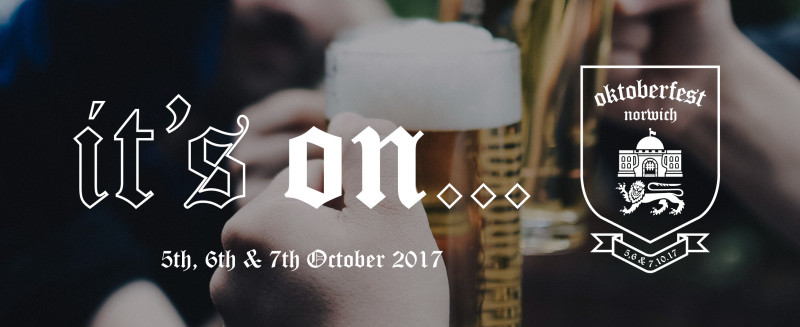 ---
Leathes Prior are proud to announce that we will be supporting our 2017 Charity of the Year, The OPEN Youth Trust, by co-sponsoring the charity in their inaugural Oktoberfest event, alongside Adnams and Bitburger.
The already popular event will take place at the former site of Barclays Bank on Bank Plain in Norwich, now the home of the charitable youth trust which primarily focuses on enhancing and improving youth care in the community.
Oktoberfest will run from Thursday 5th October to Saturday 7th October, with the Friday and Saturday sessions having already sold out, there is now only limited availability for the Thursday session.
For as little as £10, plus booking fee, guests will receive a specially branded limited edition Norwich Bavarian Beer Stein and access to full evening of Bavarian food, drink and musical entertainment provided by top Umpah band The Bavarian Strollers and local pop favourites Night Train. A limited amount of VIP tickets are available at the cost of £35 + VAT for the Thursday evening, which provides reserved stage side seating, table service, complimentary first drink and Bratwurst and the aforementioned Beer Stein.
As a firm we are delighted to be supporting our Charity of the Year OPEN in such a way that will allow us to entertain guests at such a fantastic event whilst also helping raise funds that go directly to the charity.
John Gordon-Saker, Chief Executive of OPEN said:
"We're delighted that Leathes Prior have agreed to be official co-partners alongside Adnams and Bitburger for our inaugural Oktoberfest event. Money raised from the event will be donated to the Open Youth Trust which will enable the charity to offer a diverse range of activities, most of which are free to attend, for young people aged from 7 to 25".
To find out more about Oktoberfest at OPEN or book tickets for the event, make sure you visit their Eventbrite page.