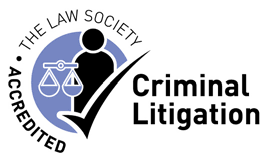 We recognise that facing a criminal allegation is one of the most stressful experiences which a person can face. Investigations and prosecutions will take a significant period of time to reach a conclusion. The potential impact of being convicted can be terrifying, both in terms of sentence and the effect upon reputation and employment.
We provide a service which is akin to choosing private health care when you are in need of medical assistance. You will have the reassurance of dealing with the same solicitor throughout your case: a trusted advisor available to speak and meet with at a time and place to suit you.
How we can help
Investigations
We provide specialist advice and representation if you are facing investigation and interview by the police.
Facing a criminal allegation and an interview under caution is an extremely stressful experience. We will be alongside you throughout. We will advise you whether it is in your best interests to answer questions, provide a written statement or exercise your right to silence.
In some instances there will be an opportunity for us to make submissions to the police that a case shouldn't proceed to court. Providing the police with an early indication of how the defence sees the case and identify shortcomings in the prosecution's evidence can sometimes prevent an investigation from progressing to court.
Court Proceedings
We will consider the prosecution evidence, meet with you to take your instructions and provide you with clear advice upon plea and prospects.
If you have to plead guilty, we will carefully prepare your case in order to present your mitigation to the court at the very first hearing date and to seek to minimise the sentence.
If it's a not guilty plea, there will be thorough preparation of your case for trial, whether it's at the Magistrates' Court or the Crown Court. This will include taking you through all aspects of the prosecution evidence, engaging with independent experts and conducting site visits where appropriate and taking statements from potential defence witnesses.
We have a long-standing close relationship with one of the top sets of criminal defence barristers. If your trial is in the Crown Court you will have the considerable reassurance of knowing that a trusted and experienced barrister will be acting on your behalf throughout the trial; someone with whom you will have met on a number of occasions during the course of preparing your case.
You will be given the choice of instructing a barrister if your trial is in the Magistrates' Court.
Offences which we deal with
We provide advice and representation to clients facing any criminal allegation.
These are some of the most common offences which we have dealt with:
Assaults (common assault, ABH, GBH)
Benefit fraud
Burglary
Criminal damage
Drugs offences (cultivation, importation, possession, supply)
Firearms offences
Fraud
Harassment and stalking
Malicious communications
Manslaughter
Murder
Perverting the course of justice
Proceeds of crime / Money laundering
Public order offences (affray, disorderly conduct, threatening behaviour)
Sexual offences
Theft
For further information of how the Leathes Prior Criminal Defence Team can help you, please contact Howard Catherall via hcatherall@leathesprior.co.uk or call 01603 281172.
what our clients say
Client feedback
Howard, we would like to thank you and Kirsty for guiding us through a very challenging and emotional time. We were very much out of our depth and appreciated your advice and guidance and much needed support and expertise. It was a huge relief to have matters brought to a swift and successful conclusion.
Client feedback
I am happy with the outcome and more than happy with your dealing of the matter. I found your manner and attitude absolutely as I would have liked it to be. I do not have any criticisms at all. Thank you for all your energy and attention to our case.
Client feedback
I would like to thank Howard Catherall for his support during my son's court case. Howard worked with the utmost integrity when offering guidance on the submissions to court. Howard ensured we both fully understood the process throughout and helped to take the pressure off our worries knowing that the case was being handled by a competent professional. Finally, Howard's experience and knowledge helped bring the case to a satisfactory conclusion within the court arena.
Client feedback
Howard, I would like to express my sincere gratitude to you, and the barristers involved, for all your hard work in fighting my son's case and ensuring he was exonerated from all criminal charges.
Client feedback
I wanted to thank you for your dedication to my case and your excellent presentation to the magistrates on my behalf. Without your services I would not be driving today. I thought the way you approached the challenge of achieving a successful outcome for me was a masterpiece of strategy, planning and delivery. It was so interesting to watch you take the magistrates eloquently 'by the hand' through the maze of events and diverse facts that constituted my defence. Every "dot and t" was crossed with no stone left unturned. Your diligence, creativity and thorough investigations were exemplary and left no quarter for ambiguity at any stage of the proceedings. Furthermore the defence bundles that you prepared were also a masterclass in both presentation and logical progression, and presented a daunting collection of hard evidence and background information to the magistrates which helped my defence significantly and shaped their response in a sympathetic and positive way. If there was a prize for the most accomplished defence of a client in a driving conviction case, you would certainly win it! Thanks to Leathes Prior for being so accommodating.
Client feedback
I am really pleased with this outcome and hopefully now breathe a sigh of relief and continue with life as normal with my family from now on. I have always regarded Leathes Prior to be one of the best solicitors in Norwich and was very pleased with the service received.
Client feedback
Please accept my thanks for the excellent legal service you have provided. I've long suspected that I was extremely fortunate to discover your practice here in Norwich and events of the last few weeks have only served to confirm that impression.
Client feedback
Since employing the services of Leathes Prior some 15 years ago to handle the MBO on mine and my colleagues behalf the service provided has been second to none. Whether it be advice regarding employment law, commercial & corporate matters on every occasion the professionalism has been exemplary as well as being very approachable and with a 'never too much trouble' attitude. So impressed were we that I and my wife use them to handle our personal matters. I would without any hesitation whatsoever recommend Leathes Prior'
Client feedback
Just want to say thank you for all your hard work and you made it so much easier having you to represent us as we wouldn't have got the same result without you. I would recommend you to anyone who need your services and I would certainly use you if I did need a solicitor.
Client feedback
In what was a very stressful situation for me personally, I was very appreciative of the way in which you knitted the strands of my defence together to establish the proper picture of what actually occurred. Delighted to find that my case was then dismissed by the Magistrates, which I attribute solely to your attention to detail, commitment and advocacy skills. I am very grateful for your help and support.
Legal 500
Leathes Prior is excellent in every way.
Legal 500
Leathes Prior attracts very high praise from clients.
Legal 500
Leathes Prior handles a wide range of privately funded criminal defence work and is known for its flexible and cost-efficient approach.