Franchising in Japan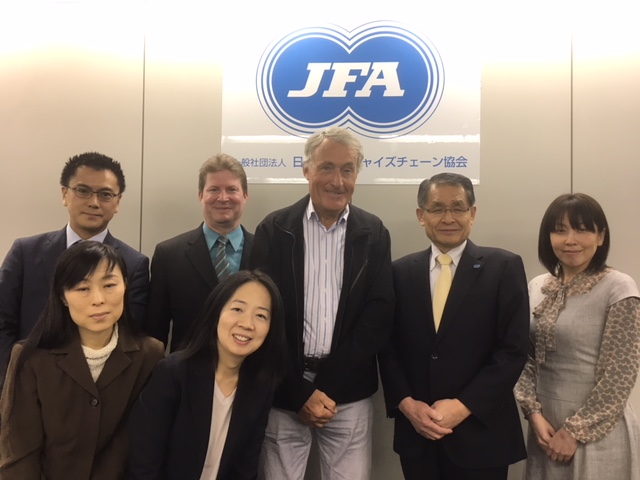 ---
Leathes Prior's Franchising Team met with Hiroyuki Ito, Chief Executive of the Japan Franchise Association (JFA) and his colleagues in Tokyo last week, as part of an initiative to assist UK franchisors seeking to expand into the Japanese market and bring Japanese brands into the UK.
The meeting was arranged with the help of Tokyo franchise law firm Atsumi & Sakai who attended the meeting and assisted with translation as the parties discussed the franchising markets in their respective countries.
Remarkable similarities were identified, both as regards the growth and present status of franchising in both the UK and Japan, and in the ease with which franchises can be established without the costly compliance with regulations such as those imposed in the USA and France.
Both the BFA (in the UK) and the JFA (in Japan) have actively promoted best practice in franchising for over 40 years and provided a voluntary ethical framework for compliance by their member franchisors.
The JFA identified a strong appetite for quality British brands in Japan and the parties discussed at length the ways in which entering the Japanese market might be made easier for UK companies.
Conversely with UK investors keen to identify the next original business concept it was agreed that Japanese food businesses in particular should seriously consider expanding into the UK market through local (British) partner master franchisees with the finance and local knowledge to roll out a franchised network here.
Leathes Prior, which is affiliated to the BFA, has been involved for over 30 years in assisting a wide range of international clients expand their businesses into new jurisdictions and bring new business brands into the domestic market. As a full service law firm we are able to advise our clients on all relevant business legal issues from intellectual property protection, franchise and licensing agreements and setting up companies, to acquiring premises and employing staff.
This week (16/17 February) the firm is presenting a series of seminars at the Franchise Show at Excel in London to domestic and international investors. The relationships we have now been able to build with the key individuals at the JFA and Atsumi & Sakai mean that Leathes Prior can now provide swift practical assistance to clients interested in the Japanese market or in bringing Japanese business concepts into the UK and with Brexit getting ever nearer that could prove to be very useful.
For more information contact Jonathan Chadd at jchadd@leathesprior.co.uk and 01603 281102 or 07919 333606