Sainsbury's Centre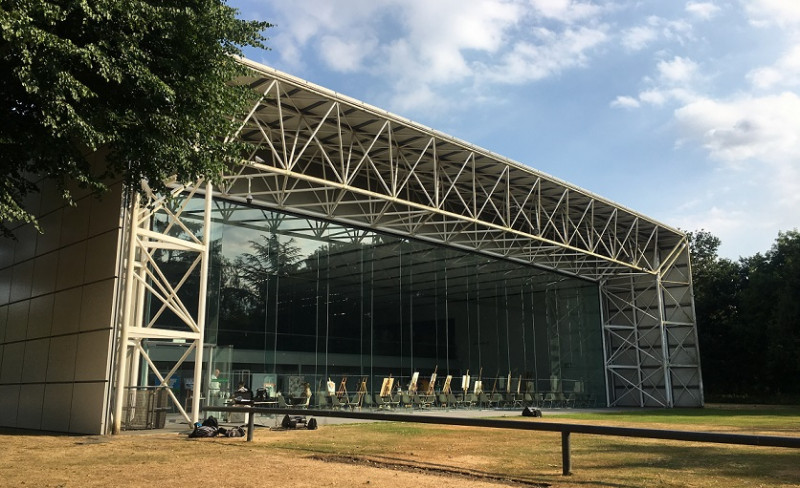 ---
This isn't very law related, but I visited the Sainsbury's Centre for Visual Arts last weekend. I like to go to a lot of the exhibitions they have on; we really are very lucky to have a place like that in Norwich. This particular exhibition was called "Superstructures: The New Architecture 1960 – 1990", and I thoroughly enjoyed it. There are a few displays relating to the kinds of buildings you would expect (the Lloyds Building, Crystal Palace, the Pompidou Centre, etc), along with a few others that were completely new to me.
If I had one criticism, it might be that the exhibition sort of gave the feeling that the history of architecture in the 20th century all led to, and converged on, the architecture of the Sainsbury's Centre building itself. Don't get me wrong, it's a nice building, and really very well designed. The Norwich Society organised a tour of the building last year, including a behind-the-scenes look at certain aspects, and I was very impressed. It isn't necessarily the end-point of modern architecture, though. It just happens to be a brilliant example of architecture from an early stage of Norman Foster's career, and a great part of why I love living in Norwich.
Of course, being a construction lawyer, I couldn't quite get out of my head the case of Riva Properties v Foster + Partners whilst walking around, as it was only decided recently (October 2017). Norman Foster was the architect who designed the Sainsbury's Centre, and went on to do more great things, and it was his company that was involved in the litigation. Unfortunately, in that case his company was found negligent in relation to advice on the budget for a particular design, and the ability to "value engineer" that budget down. That cost poor old Foster + Partners £3.6m, along with a fairly scathing judgment from Mr Justice Fraser.
That should not detract, of course, from the brilliance of Norman Foster (HSBC in Hong Kong, HSBC in London, the Gherkin, the Reichstag dome in Berlin, the Millennium Bridge, etc, etc). I suspect Mr & Mrs Sainsbury didn't mind the cost when they commissioned the Centre back in the 1970s. Despite a simplistic appearance, some of the features of the building (including many mostly hidden features) were ridiculously expensive and very well thought through.
Anyway, the Superstructures exhibition is well worth a visit for anyone who's interested.