Leathes Prior's 2018 Charities of the Year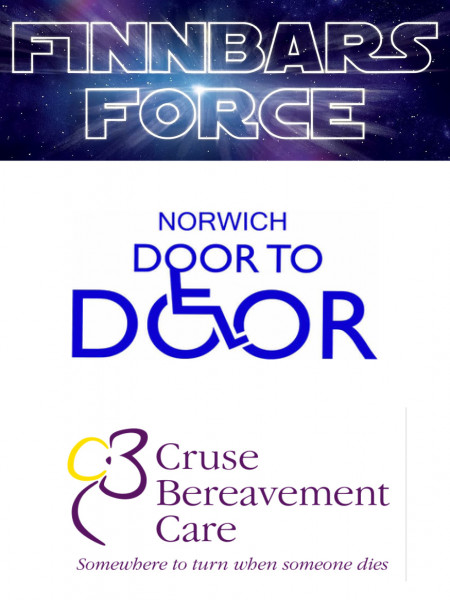 ---
Leathes Prior are proud to announce that throughout 2018, we will be supporting not just one, but three local charities. The three chosen charities, elected after much deliberation and a staff vote, are Norwich & Central Norfolk Cruse Bereavement Care, Finnbar's Force and Norwich Door to Door.
Norwich & Central Norfolk Cruse Bereavement Care is an independent organisation of committed people who care about, and understand, the needs associated with bereavement. Cruse offer sympathetic, compassionate and confidential support and a place to turn to when someone has passed away.
Tracey from Norwich and Central Norfolk Cruse Bereavement Care said, "It is such a support to us that Leathes Prior has elected to work in partnership with Cruse Norwich and Central Norfolk as one of their chosen charities for 2018. We rely on our dedicated and hardworking volunteers to provide our services to bereaved adults in the city and beyond. The support of local businesses is a huge boost, allowing us to continue our work but also to build the profile of our charity so we can offer assistance to those who may not have heard about our services."
Finnbar's Force is a charity set up to provide support and reduce suffering for children who receive the devastating diagnosis of a brain tumour. Finnbar's Force was set up by Tristan and Claire Cork at the start of 2017 following the loss of their son to an aggressive brain tumour in August 2016. Their aims are to support children suffering from brain tumours, as well as their families, support and fund research into childhood brain cancer and potential treatments, and raise awareness of the disease and its debilitating effects.
Tristan from Finnbar's Force said, "We are absolutely delighted to have been picked as one of Leathes Prior Solicitors' Charities of the Year 2018 and would like to thank the whole team for choosing to support us. We set up Finnbar's Force after losing our son Finnbar to an aggressive brain tumour in 2016. We had a particularly difficult journey and want to do what we can to reduce the chances of other families going through what we have. The backing of our local community and the businesses within it is so important to us as we look to make a positive change to the care of local children diagnosed with brain tumours, as well as their families. The money raised for us by Leathes Prior staff will be used to directly support our local projects."
Norwich Door to Door work with the most severely disabled and older people on a low income in our community who need a specialist Door to Door service. Their mission is to enable social inclusion and enhance quality of life for people with severe mobility problems on low income in and around Norwich. They offer fully accessible mobility bus services with affordable fares for independence, equality, safety and security so that members of the public are empowered to make their own contribution to their community.
Jill from Norwich Door to Door said, "We are thrilled to have been chosen by the Leathes Prior team as one of the local charities they will be working with and supporting in 2018. Our 10 fully accessible vehicles and their bus teams empower 450 people who have severe mobility problems and mainly live alone, to get out and about in our community. Our services relieve the effects that loneliness can have on our wellbeing. Recent research has proven that to feel socially connected is massively important for both our good health and longevity."
Throughout 2017 Leathes Prior supported OPEN Youth Trust in Norwich and we have really enjoyed working with the team there, getting to know them better and learning about all of the excellent things the charity do to support young people in Norfolk, making a real difference to so many lives. OPEN is home to a multi-purpose venue providing live music and venue hire for conferences rooms, meetings and events as well as secure storage. The profit from these commercial activities enables the charity to offer a diverse range of different activities, most of which are free to attend, for young people aged 7 – 25. The charity relies on grant funding and donations to raise the remaining funds needed to support their work.
Leathes Prior's Charity & Community Projects Committee thought that we may be able to extend our help further if we fundraised for more than one of the smaller charities in and around Norwich in 2018 and we hope we will be able to make a real difference to those charities throughout the year.