LEATHES PRIOR CLIENT MAKES IT TO FORMULA 1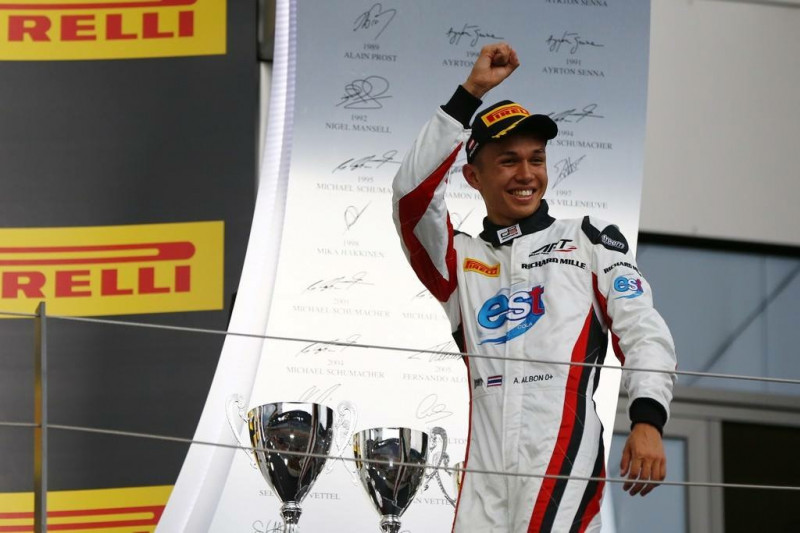 ---
We are delighted to announce that our client Alexander Albon has today been confirmed as a Formula 1 driver, having signed for the Scuderia Toro Rosso team.
East Anglian born Alex, 22, shone in FIA Formula 2 this season, finishing behind only George Russell in the championship standings (who will race in Formula 1 next season for Williams) and Lando Norris (who will also race in Formula 1 next season, for McLaren).
In signing for the Toro Rosso team, who form part of the prestigious Red Bull Racing outfit, Alex follows in the footsteps of a number of impressive drivers who launched their F1 careers in similar fashion – Sebastien Vettel, Daniel Ricciardo and Max Verstappen perhaps being the most notable names of many. With the potential pathway to step up to the front-running Red Bull team (a move being made in 2019 by current Toro Rosso driver Pierre Gasly) Alex has secured one of the most sought-after drives on the grid.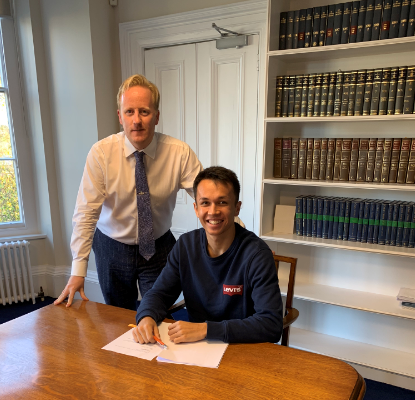 Acting for and advising Alex in the lead up to and concluding the contract at Toro Rosso was the Head of Leathes Prior's Sports Team (and our sporting management division Full Contact) Dan Chapman, pictured above with Alex as the deal completed.
Dan commented "It goes without saying that this is a phenomenal achievement from Alex. There are only 20 Formula 1 drivers in any one season, so to arrive at this level is the preserve of the very select few. Formula 1 is not only the pinnacle of motorsport but it is one of the most watched sports in the world – it being considered that well over 600 million people watch each race live, globally. When Alex started go karting in 2005 at the age of 8, he could not have realistically dreamed that he would one day be considered to have Formula 1 level driving ability, let alone get to actually race in the series – so to have played a part in helping this dream come true is an incredibly proud moment."
Dan and our Sports Team have acted for motor-racing teams and drivers at all levels of motorsport for many years, but Alex's route to Toro Rosso was by no means straight-forward. As Dan explained, "Clearly, the most difficult part of securing a Formula 1 drive for any driver is persuading one of the ten teams on the grid that you have the requisite ability. Alex's performances this year in Formula 2 thankfully caught the eye of the powers that be at Red Bull and Toro Rosso, in a season where that particular championship has boasted an arguably unrivalled level of talent. As well as Russell and Norris, who both competed with the backing of their parent F1 teams, the likes of Ferrari-backed Antonio Fuoco and experienced Nick de Vries mean that Alex's accomplishment, to be right up there challenging for the title without the benefit of F1 backing, was just so impressive. But in addition, a Formula 1 deal takes an awful lot of work behind the scenes from many people and there are many legal complexities to grapple with - Alex, his family and myself have had many sleepless nights and stressful challenges to overcome so we are all elated that we managed to get there. Most of all, we are grateful to Dr Helmut Marko – who heads up Red Bull's junior driver programme – for his unwavering belief in Alex."
Alex himself added "It is so surreal – I can honestly say that it has always been my dream to become a Formula 1 driver ever since I can remember. There will be a lot to learn but I am beyond excited and cannot wait to get started in my new Toro Rosso! I owe a massive thank you to my strong support network, to all my present sponsors (Thaibev, True, PTT, JSM, Overseas), my former manager, my family, my grandad and Uncle Duke and more recently thanks for all the help from Dan Chapman. All of these people have worked very hard at different stages of my career and placed a massive part in me getting to F1."
Alex also added "It's such an amazing feeling to know that I'm in Formula 1 next year. Throughout my single seater career, I went through a few ups and downs. I was dropped by Red Bull in 2012, so from then I knew my road to Formula 1 was going to be a lot harder. I worked really hard and tried to impress every time I got in the car, and I have to say a big thank you to Red Bull and Dr Marko for believing in me and giving me a second chance. I've always been motorsport mad and since I first got in a car it's been my dream to be in Formula 1. To be given this opportunity is just incredible."
For Alex, the hard work really starts now – the rigours of the long Formula 1 season, which in 2019 includes 21 races – require an intensive fitness regime and winter pre-season testing for Toro Rosso will begin in February 2019 in Barcelona. We wish him and Toro Rosso all the best.
For the official press release on this news, click here. For any press enquiries or commercial enquiries in regards to Alex please contact Dan Chapman (dchapman@leathesprior.co.uk).