Leathes Prior delighted to announce the promotion of eight key members of staff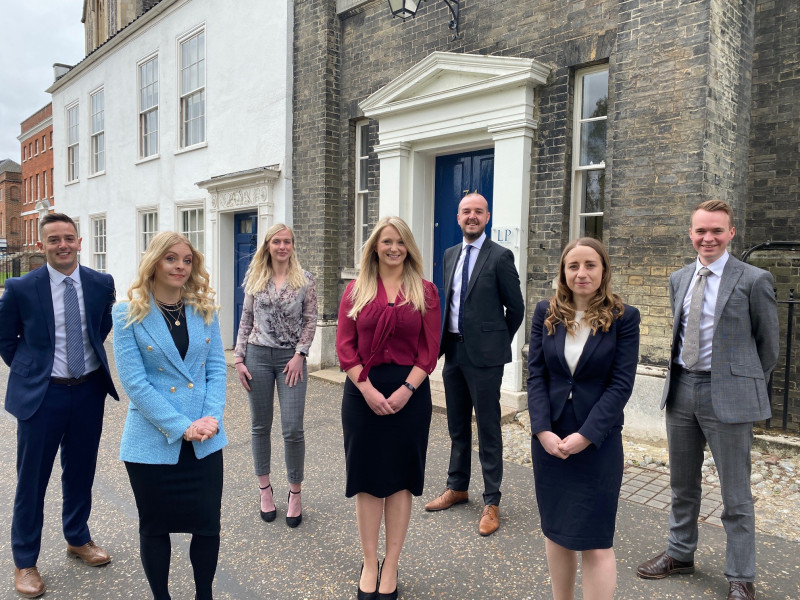 ---
Leathes Prior is thrilled to announce the promotion of eight key members of staff: Lucy Chambers, Lily Beel, Bethany Slaughter, Chris Goodwin, Patrick Gibney, Kelly Stannard, Jack Horwitz and Georgia Short.
We are delighted to announce that Lucy Chambers has been promoted to Senior Associate. Lucy joined Leathes Prior's Commercial Property Team in February 2019, bringing an additional layer of expertise to the firm's agricultural offering. Lucy is widely known for her extensive experience in the agricultural sector and she is a hugely trusted advisor for the firm's longstanding farming clients, and wider commercial property client base.
We are also pleased to announce seven members of staff have been promoted to the rank of Associate.
Lily Beel has played an integral part in the growth and success of Leathes Prior's Residential Property Team. Lily has played a key part in ensuring the firm's busy team have maintained excellent levels of client care throughout the pandemic and her promotion to Associate level is very well deserved. Lily continues to provide responsive and practical advice which continually attracts clients locally, and further afield.
Bethany Slaughter joined Leathes Prior as a trainee in 2015 and qualified as a Solicitor in 2017 within the firm's Wills, Trusts and Probate Team. Bethany not only handles the full range of private client matters but also offers specialist advice and assistance with property matters arising in this area, having worked very closely with the firm's previous Senior Partner, William Riley for many years before his retirement. Bethany is a hugely dedicated lawyer and is an asset to her team and the firm.
Patrick Gibney joined the firm as trainee in 2016, before qualifying as a Solicitor in our Wills, Trusts & Probate Team in 2018. Having developed into an accomplished and trusted private client lawyer, Pat played a key role in the team's response to the pandemic and is an integral part of the future of the Wills, Trusts & Probate Team.
Chris Goodwin joined the firm as a trainee in 2016 before qualifying as a Solicitor in 2018. Specialising in commercial litigation matters within our Litigation & Dispute Resolution Team, Chris has fast become a key member of this busy team. Working closely alongside Partners in the team Mike Barlow and Polly Langford, Chris has already developed a strong reputation in his own right as a talented litigator.
Kelly Stannard also joined us as a trainee in 2016 before qualifying as a Solicitor in the firm's Litigation & Dispute Resolution Team in 2018, specialising in property disputes. Kelly has particular expertise in planning disputes, an area Kelly continues to lead on developing and growing at the firm. Kelly works closely with the firm's planning consultant, Alan Irvine, to ensure clients receive an exceptional and rounded service from start to finish.
Jack Horwitz is the final trainee having joined us in 2016, before qualifying in 2018. Jack is a brilliant lawyer in the firm's Corporate & Commercial Team, which he now has a crucial role in. Working on high-value and complex matters, Jack has developed a strong client following of his own and helps this team go from strength to strength.
We are delighted to see these four trainees all being promoted to Associate together, having joined the firm together back in 2016.

Finally, we are very pleased to see Georgia Short promoted to Associate. Georgia joined the firm's Commercial Property Team in 2019, having initially trained in London. She is a talented property lawyer who has become a hugely reliable member of our busy Commercial Property Team and will be key in helping to shape its future growth.
Dan Chapman, Partner, said, "I'm thrilled to be announcing so many promotions this year, which is testament to the exceptional performance we have seen across the firm in the last year, despite the ongoing challenges all law firms and indeed businesses continued to face in 2021. These lawyers have all played key parts in ensuring their teams have maintained exceptional client service throughout the pandemic, which is of course the firm wide priority. All of these promotions are hugely deserved, and we look forward to continuing to support these talented lawyers as their careers at Leathes Prior develop further."
Leathes Prior would like to extend a huge congratulations to those eight lawyers who have received a well-deserved promotion.