Our trainee solicitors are our future lawyers and partners. Each one has followed their own path and brings a unique set of qualities and skills to the firm. Take a look through their profiles to find out more:
Milan Pandit Kate Wheeler Anna Jordan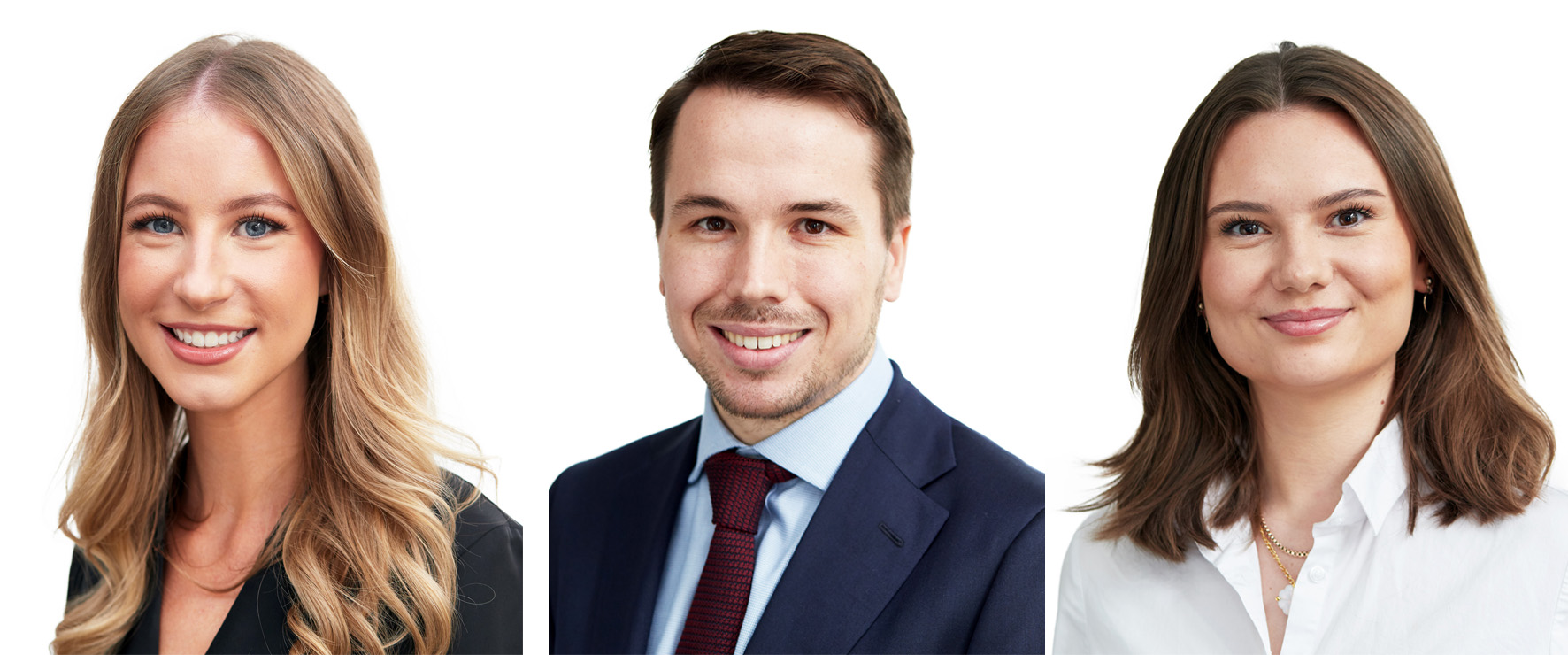 Kimberley Holden Alex Robinson Maggie Berry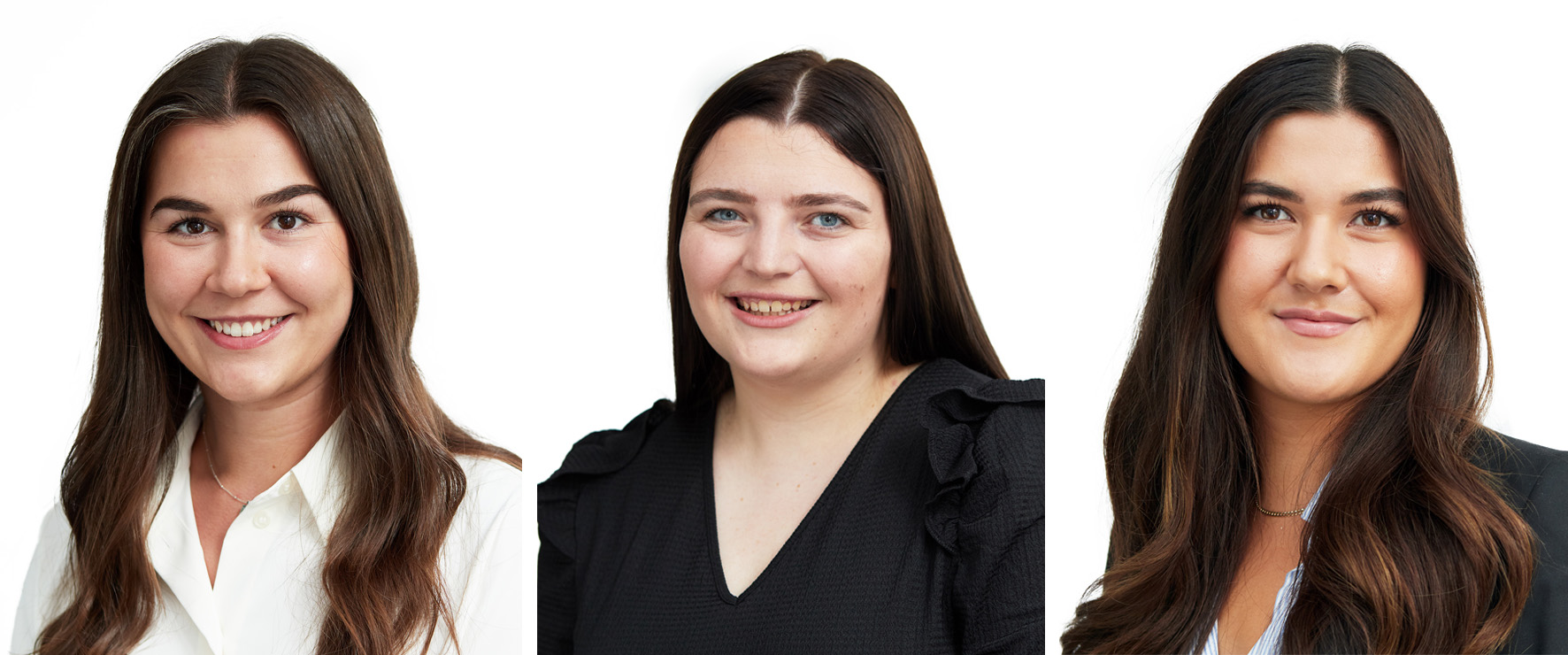 Eleanor Chapman Kirsty Chaplin Georgia Sartin
A day in the life of Kate Wheeler, Trainee Solicitor, Leathes Prior
Departments to date: Commerical Property (first seat); Corporate and Commercial (second seat)
University : University of York
Degree: Law Degress (LLB) First Class
I started my training contract with Leathes Prior in September 2022. Currently, I am sitting in the Corporate and Commercial Team, having previously sat in the Commercial Property Team. Undertaking a Corporate and Commercial seat at Leathes Prior is particularly interesting as, unlike many other firms, it deals with both corporate matters, being the transfer and management of companies, and commercial matters, covering a wider range of law such as intellectual property, terms and conditions, a data protection. This makes the seat incredibly varied as you are able to get involved and develop your skills in both comprehensive corporate work, as well as more smaller-scale commercial work.
My day typically starts around 8am, as the majority of the Team, including myself, are early risers. I check my emails and have a chat with my supervisor about our evenings, the work I have on, and anything new that my supervisor wants me to get involved in. I then make a to-do list for the day in order of priority, before going to grab a coffee. On my way to the kitchen, I stop by the rooms of other members of the Team to say hello, and then head back to my desk to start work.
This day is a particularly exciting one, as we are completing the purchase of a company which I have been lucky enough to see through from start to finish – something that is not always possible during a 6-month seat. I email the sellers' solicitor with the final agreed documents, which I have been involved in the drafting of, and then circulate the relevant documents to our client for signing. Shortly after this, I receive a call from our client, who wishes to sign the documents whilst on the phone, just to make sure no issues arise. We talk through the signing together, following which I check the documents to make sure everything is in order. I then brief our client on the final steps of the transaction, assuring them we will be in contact later in the day to confirm completion.
I then move my attention to a new enquiry I received the previous day from someone looking to review, and potentially amend, their company's terms and conditions. After scanning over the company's terms, I discuss them with a member of my Team to agree the potential work involved and a costs estimate. Following this, I draft an email to the client explaining the work we would expect to do, and our quotation, which I send for approval. Once approved, I email the client and CC in the fee earner involved in the discussion, who will supervise the work should the client wish to proceed.
Once this item is ticked off my to-do list, I begin reviewing my supervisor's amendments to an asset purchase agreement (APA) I drafted earlier in the week. This is the second APA I have worked on during my seat, which really enables me to see the progress I have made over the past four months. I work through the document, making a note of the changes made, and highlight any points I do not fully understand.
Around 1pm, I meet up with some friends from different departments and head for lunch. We take a quick walk into the city to grab some food and then sit in the Cathedral Close. Especially on days such as today where the sun is out, it's nice to get outside and appreciate the setting of where we work. We greet other colleagues as they walk past – another benefit of working in a firm of our size – and then head back to our respective offices.
After lunch, I sit with my supervisor to talk through the amendments to the APA. I make additional notes, and we discuss in detail the specific points I do not understand. Following this conversation, we then outline the next steps in the transaction and what my involvement will look like.
Following this, my supervisor and I receive confirmation from the sellers' solicitor that they are now ready to complete. We have a call where we agree to date the transaction documents, transfer the purchase funds we have received from our client, and provide them copies of the signed and dated documents for their records. We then proceed to inform our client that the purchase has completed, and let them know the filings we will make on their behalf at Companies House.
At the end of the week, the Team typically leave the office just before 5pm and head to the pub. Leathes Prior prides itself on being an integrated and sociable firm, which is definitely demonstrated each week by the turnout to Friday Drinks. I am able to chat with my team, other members of the firm, as well as catch up with my fellow trainees who, due to us sitting in different departments or even buildings, I may not have had the chance to see during the week. I head home later that evening feeling satisfied with the work I have accomplished that day, but, most importantly, looking forward to the week ahead.