Training Contracts
Our trainee solicitors are the future of Leathes Prior - 60% of our Partnership trained within the firm.
Led by our training principal Sarah Appleton, trainees make their journey across the firm supported by our partners and their teams.
We aim to design training contracts according to the individual trainee solicitor. Holding regular reviews, we discuss progress and use these discussions to plan the next seat. We believe it is important that this is kept flexible because every trainee solicitor is different and their journey with us is unique. Our diversity and inclusion statement can be found here.
Our trainees normally complete four seats across the firm, spending six months in each seat. At the point of qualification we do our best to retain every trainee solicitor and they do not just qualify to fill vacancies within the firm - the firm often expands to create positions for the right candidates.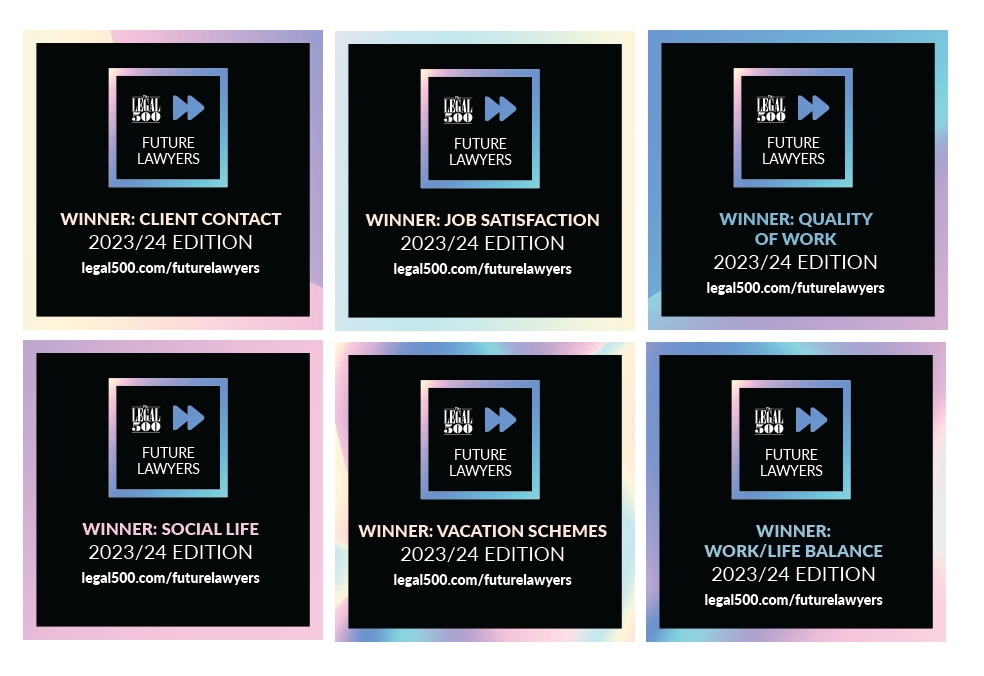 ---
Testimonials
James Walker (now Solicitor)
I feel exceptionally lucky to have completed a training contract at LP, characterised by the warmth and friendliness of every member of the firm. What sets LP apart is its commitment to fostering a close-knit team and nurturing young lawyers by giving them early responsibility. Having heard too many horror stories of trainees at other firms being left with mundane administrative tasks, I was pleasantly surprised when, from day one, I was trusted with real tasks and substantive work. This trust, extended to all trainees, is key to building the capability and confidence necessary to practise independently by the end of your training. It allowed me to work closely with clients, handle challenging cases, and to finish my training contract safe in the knowledge that I was ready to manage my own caseload as a qualified solicitor. Beyond the exceptional professional experience, LP's vibrant social life and supportive atmosphere encourage both professional and personal growth. You can expect to have a very full social calendar and to get to know your colleagues just as well outside of the office as you do within. I'm confident that my time at LP has prepared me not only for a successful legal career but has also enriched my life with lasting friendships and some of my fondest memories. If you're seeking an exceptional training contract in a warm and socially vibrant firm that believes in your potential from day one, I wholeheartedly recommend LP.
Sam Poulter (now Solicitor)
I could not have had a better start to my legal career than my training contract with LP. The firm has undeniable ambition, and this extends into the experience it passes on to its trainees. From the moment you walk through the door, you feel as if you have been a part of the firm for a long time. Every member of the firm, no matter the team or the role the role they hold, is welcoming, enlightening and keen to help you develop your legal career and personal goals. The firm's overall ambition is to be a partner to its clients, providing outstanding legal advice and customer service, and this only benefits you as a trainee. From the very start of your time here you work actively alongside fee earners and are brought in to help on the main elements of matters, rather than looking on from the side-lines, providing you with first hand experience you can then take into your own work and caseload – there is plenty of chance for you to manage this early on by the way. Not only does your legal knowledge expand, but your confidence does too. This is something which is not always appreciated until qualification, but confidence in your abilities and advice are key tools when you reach NQ status, and LP brings that out for you in abundance – you are always encouraged and suitably trained to allow you to back your judgement and provide your answers and advice with confidence. Outside of work you are offered every opportunity to network, and I was routinely invited to attend regular networking events and represent the firm, building my own network of potential and actual clients and referrers whilst doing so. Whilst providing clients with advice and drafting documents excellently are a fundamental part of your career, this is really only half the job for the modern-day lawyer, and LP ensures you have the network, belief and all-round professional tools at your disposal for being a junior lawyer come qualification. Add in that we have one of the most vibrant and award-winning social calendars in the country, and you really do get the full experience. If you are looking for firm with quality work and training, excellent professional development, a welcoming and friendly culture, amazing fellow trainees, and a vibrant social culture, LP is the firm for you. I would not hesitate to recommend LP, both for your training contract and as a place to full flourish in your career.
Nina Ryan (now Senior Associate)
No two days are the same and when you pick up the phone you never know what new scenario awaits you. There is a thriving social scene within the firm and it is not uncommon in the evenings for there to be networking events or casual get-togethers with colleagues after the day's work. I have recently been dragon boat racing, to a pub quiz and bravely boarded a canoe in a thunderstorm as part of Leathes Prior teams in the name of networking, to give just a few examples!
Bethany Slaughter (now Senior Associate)
What has remained constant throughout my time as a trainee is the great level of responsibility I am afforded, together with an unwavering network of support from the fee-earners in each team - they are never too busy to help out and answer questions. I am able to gain a thorough insight into the world of conveyancing, and am tasked with a variety of assignments throughout the day, which are each reviewed before being sent out; in this way, I can obtain regular feedback. I've not only learnt the law, but how to manage clients' expectations and help them through what can be a stressful time. If you're looking for a Training Contract where you have high levels of client contact, can really get stuck in to the work, and are encouraged to form your own judgments, all whilst working in a flexible and sociable environment, then apply to Leathes Prior.
Richard Guthrie (now Partner)
I was bowled over by the firm and the people I met on the recruitment day and have not looked back since. I moved to Norwich without knowing anybody here but settled in quickly, helped in no small way by the fact that the firm is very sociable. At Leathes Prior you will be given early responsibility and the chance to find an area of law and practice you are interested in. You will have the opportunity to learn about this area, be encouraged to form your own view about the advice to be given and develop the confidence to back your own judgement – all with the necessary guidance from the outstanding and experienced lawyers who oversee the training. You will receive first-rate training at this firm and, I believe, will become a better lawyer more quickly than if, for example, you were at a larger firm where you could be chained to a photocopier and progress very slowly. Only a small number of trainees are taken on by Leathes Prior and one of the things on which the partners place particular importance is whether they can see the applicant becoming a future partner of the firm; that is far from the case with a lot of other firms. I could not be happier as a result of my decision to apply to Leathes Prior, which I put down to the quality of work and training, the chance to get involved in marketing events and the firm being such an exciting and fun place to work.
Simon Willis (now Partner)
A great advantage of training with LP is that we offer such a wide range of legal services across the Corporate, Commercial and Private Client spectrums meaning that during your training contract you are bound to find your calling. I found that I had a particular appetite for Corporate and Commercial work whilst on the LPC but after spending my first training seat at LP I found that perhaps it just wasn't me after all. Good job there were still plenty of options open. I explored Family, Wills, Trusts and Probate, Elderly Client, Court of Protection and Conveyancing during the remainder of my training and I thoroughly enjoyed each of those areas. Equally, I could have explored the worlds of Regulation, Criminal Defence, Employment, Civil Litigation and so many more. If you are lucky enough to be offered a training contract with us you will also discover that you have great colleagues. LP has a young, dynamic, down to earth and very likeable workforce. It excites me to look around at my colleagues and think that one day I could be sitting around the partnership table with some of them.
Polly Langford (now Partner)
I sincerely believe that I could not have chosen a better firm at which to embark upon my legal career. Very early on in my training contract I realised that what I had been informed on the recruitment day by Trainees, Solicitors, Associates and Partners alike (which is that: Leathes Prior is a firm at which you will enjoy early responsibility as a trainee; trainees are given challenging, engaging and meaningful tasks; and you have the opportunity to make your mark and mould and progress your career in any way you wish) was all entirely true. I had such confidence in the support and encouragement offered by the firm that I recall, in my second seat, pitching (alongside a fellow trainee) an idea we had for a new department to two Partners! The quality of training and opportunities you receive as a trainee at Leathes Prior really is/are second to none. Upon completing my training contract I qualified into the Dispute Resolution Team where my desire, over time, to specialise in particular areas (including Education and Equine) and qualify as an Accredited Mediator has been fully backed. I am now a Partner of the firm and will be forever grateful that I applied for a training contract at Leathes Prior.
Dan Chapman (now Partner)
My training contract was everything I had been looking for. Within days I was meeting clients, researching real law and, to put it bluntly, getting stuck in! As a trainee I was responsible for obtaining an ex parte injunction that required me to run to the Court and persuade the ushers to allow me access to the sitting High Court judge; experience such as that has proved invaluable - all at a time when my peers in other firms were still getting to grips with the coffee machine! When my qualification date arrived, I had no doubts about where my future lay. I wanted to be an employment lawyer, and the firm backed me unequivocally; three years later I was heading up a successful and expanding team and was rewarded with early partnership. I often wonder whether any other firms in the UK would have afforded me these same opportunities so early in my career; I suspect very few indeed. I am the Partner responsible for the recruitment of our trainee solicitors. I take my part in that responsibility extremely seriously; not least because, one day, I hope to be sitting round the partnership table with some of the applicants I recruited as trainee solicitors.
Alex Saunders (now Partner)
One of the best things about training with Leathes Prior is the fact that almost every day in my time at the firm has given rise to different challenges, rewards and experiences. If you are someone who enjoys client contact, thrives on early responsibility and is willing to put in hard work, I sincerely recommend applying for a Training Contract with Leathes Prior.