Leathes Prior is delighted to welcome five new Trainee Solicitors to the firm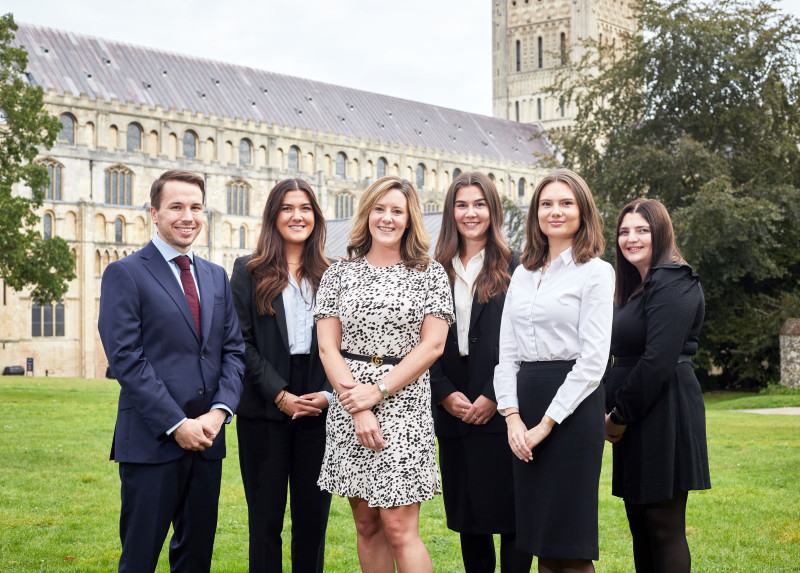 ---
Leathes Prior is thrilled to welcome five new Trainee Solicitors to the firm: Alex Robinson, Eleanor Chapman, Georgia Sartin, Kirsty Chaplin, and Maggie Berry.
Alex Robinson graduated with a first-class history degree from Durham University in 2017 and completed a Masters in History at the University of Oxford in 2019. He went on to study for the Graduate Diploma in Legal Studies (GDL) at the University of East Anglia (UEA) in 2021 where he obtained a Distinction and was awarded the UEA Law School Prize for best performance in the GDL final assessment. He then received a Distinction in the Legal Practice Course at the University of Law (ULaw) in 2022. Alex starts his Training Contract sitting in the Litigation and Dispute Resolution Team with Partner, Mike Barlow who specialises in commercial disputes.
Eleanor Chapman graduated from the UEA in 2021 with a 2:1 in Law. During her time at university, Eleanor volunteered at Norfolk Community Law Service as their team leader for the Employment and Discrimination clinic and was Treasurer for the UEA Law Society 2019/20 and 2020/21. Eleanor then went on to study the LPC LLM with ULaw at their Norwich campus part-time, while working at LP assisting Senior Associate, Lily Beel and will now be completing her Training Contract sitting with Partner, Stephen Wilson in the Residential Property Team.
Georgia Sartin studied at the University of Birmingham, obtaining a 2:1 degree in Philosophy followed by the GDL at the UEA. Georgia went on to complete her LPC LLM with ULaw and ended her studies with a trip to Southeast Asia for 3 months.. Georgia joins LP to begin her Training Contract initially sitting in the Litigation and Dispute Resolution Team with Partner, Darren Bowen who specialises in property disputes.
Kirsty Chaplin graduated from ULaw in 2022 with a first-class honour's Law degree. During her time at University, Kirsty volunteered with the Citizens Advice Witness Service at Nottingham Magistrates' Court and received a Provost Award for her commitment and dedication to vulnerable witnesses. Kirsty joined LP in July 2022 assisting Partner, Howard Catherall the Regulatory & Criminal Defence Team and will now be completing her Training Contract in the same team, whilst undertaking her LPC studies part-time with Ulaw.
Maggie Berry graduated from the UEA in 2021 with a 2:1 degree in Law. Maggie went on to complete an LLM in International Commercial and Competition Law, graduating in 2022 and completed the LPC with ULaw in 2023. During her studies at the UEA Maggie was heavily involved with the Mooting competition and was the UEA Law Society President for the year 2020/21. Before joining LP, Maggie worked in-house as a Paralegal. Starting her training with LP, Maggie's first seat is with the Family Team, with Partner, Alisdair Douglas.
Training Principal Sarah Appleton said "One of the best bits of my job as Training Principal is getting to handpick new talent to join the firm. As a firm we are really committed to growing our own talent who one day will take their places round the partnership table, and the fact that we have five Trainees staring with us this year is a testament to how seriously we are taking that commitment. It is a privilege to nurture our Trainees' development over the next two years, and I am really excited to see what this group have in store for us – I have no doubt big things!"
The firm is pleased to welcome all five Trainee Solicitors and wish them the best of luck.