Test Match Cricket: A Business in Motion?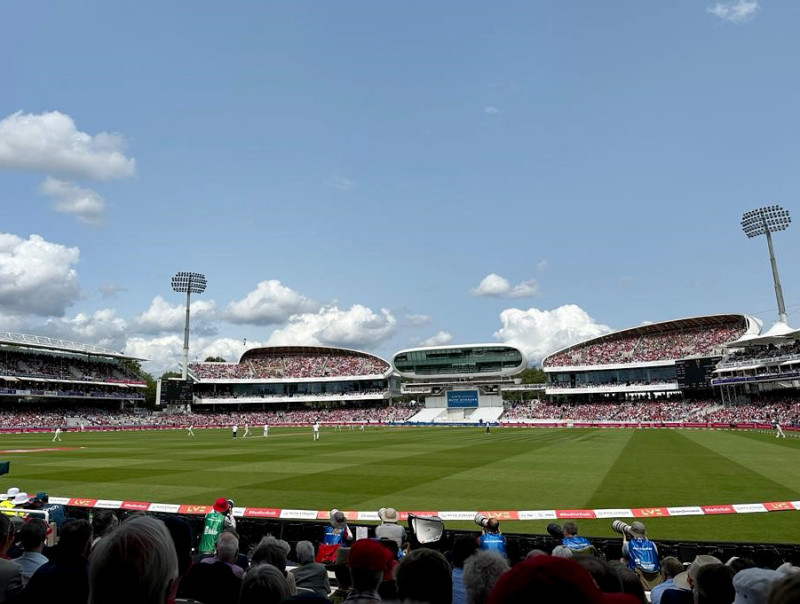 ---
I have to admit it: I am in despair that this Ashes summer is already over. Should not the 1 August herald the start of the real summer, rather than mark the end of it?
Reflecting this morning on an incredible series of Test match cricket, I was pondering why it is that I find this format of the game so utterly compelling. I am fully aware that to many, the idea that a game can last for five days is absurd, let alone that it could end in a draw – or worse still, as we saw so painfully in Old Trafford, that rain could render the earlier days' play (as swashbuckling as they were) completely irrelevant.
Test match cricket, the longest and oldest format of the sport, may seem like an unlikely candidate for drawing parallels with the world of business. However, with a little thought, one realises that the intricacies and strategies employed in Test cricket mirror those used in the corporate world. That the England team is now led by the positive, enthralling (and at times, some might say, reckless) approach of the McCullum and Stokes era, makes this comparison all the more interesting.
One of the most apparent parallels between Test match cricket and business is the emphasis on long-term vision. Test cricket is played over five days, requiring patience, discipline, and whilst striving for consistent performances session by session, an acceptance that things won't always go right is vital. Short-term fluctuations and setbacks must not distract either the cricketers or the business leaders from their ultimate objectives and when on Sunday the Australian openers were piling on the runs, such that all the so-called experts declared that England would lose the game, the England leadership remained positive, confidence and focussed on the next day.
Test cricket involves extensive strategic planning, just like a successful business requires comprehensive planning and execution. It is strikingly clear that McCullum and Stokes had spent a lot of time analysing Australia's strengths and weaknesses, devised game plans, and adapted strategies based on the unfolding match situations. Likewise, businesses need to conduct market research, analyse and understand their competitors, and formulate business strategies to navigate the ever-changing economic landscape.
Both Test cricket and business involve managing risks effectively. Like no Test side before them, this England team have tended to prefer to take the risk of aggressive strokes against the need for survival, whilst the Australian approach has remained more cautious. After losing the first two Tests, despite playing so well in large parts of the games, did this England side dial down their risk-taking approach slightly?
In business, risk assessments are essential for decision-making, investment, and product development. Calculated risks, when taken in cricket or business, can lead to significant rewards. Risk takers also accept, as Ben Stokes so clearly does, that it won't always work. And when risk takers make mistakes, there are usually queues of people ready to criticise. So be it. Better to make decisions, take action, and get it right 9 times out of 10 than sit around, pondering laboriously, and find yourselves timed out anyway?
Teamwork and Collaboration
Test cricket, like any sport, is a team game. Players need to function cohesively as a unit, supporting each other's strengths and compensating for weaknesses. For every heroic innings from Ben Stokes or blistering spell of pace bowling from Mark Wood, the reality is no Test match can be won by one player. Similarly, businesses thrive best when employees work collaboratively towards common goals. Successful companies foster a culture of teamwork, where individuals complement each other's skills and work towards a shared vision.
In Test cricket, teams must adapt to changing pitch conditions, weather, injuries and unpredictable opposition strategies. This England team lost the first two Tests, and for the third Test made significant changes to their bowling line-up. Chris Woakes, a player who had prior to that point been disregarded by the McCullum and Stokes era, joined the series from the third Test only yet ended up being named the player of the series. Moeen Ali was retired this time two months ago, yet answered Ben Stokes' SOS call after Jack Leach's injury and played a key role in the series. Similarly, businesses face external challenges, such as market fluctuations, technological advancements, the loss of key staff or shifts in consumer and client preferences. Both cricket teams and businesses need to remain agile and adaptable to thrive in their respective arenas. Dogmatic reliance on a strategy will never work – the ability to adapt, quickly, is vital.
Endurance and Perseverance
Test cricket demands incredible endurance from players who must concentrate for extended periods. Business leaders similarly need perseverance to navigate through tough times and remain focused on long-term success, as do their key employees. The ability to bounce back from setbacks and stay determined in the face of adversity is a shared characteristic of successful cricket teams and businesses. When this England side had just gone 2-0 down in the series with three Tests to play, Ben Stokes was ridiculed by some for simply saying "we will win 3-2". And but for that weather in Manchester, he was so nearly very right…
Data Analysis allied with traditional judgment
Data analysis plays a pivotal role in both Test match cricket and business. Cricketers use statistical insights to identify opposition patterns, player performances, and strategies. In the corporate world, data-driven decision-making is becoming increasingly critical – however it is important to not disregard some of the more instinctive, traditional methods of decision making or action which no data analyst or artificial intelligence can assist you with. When Stuart Broad felt the urge to switch the bails around to change England's luck, it just worked… sometimes in business, going with your gut instinct is just fine.
Conclusion
Test match cricket and business may seem worlds apart, but their underlying principles and challenges align remarkably well. In the end, whether on the cricket field or in the boardroom, the pursuit of excellence and the quest for success unites us all. You may or may not be a fan of 'Bazball', but if the viewing statistics are to be believed, this England Test match side have brought people flooding back to this long format of the game – and I, for one, think we may all benefit from that.