Reducing the Spread of Respiratory Infections Including Covid-19 in the Workplace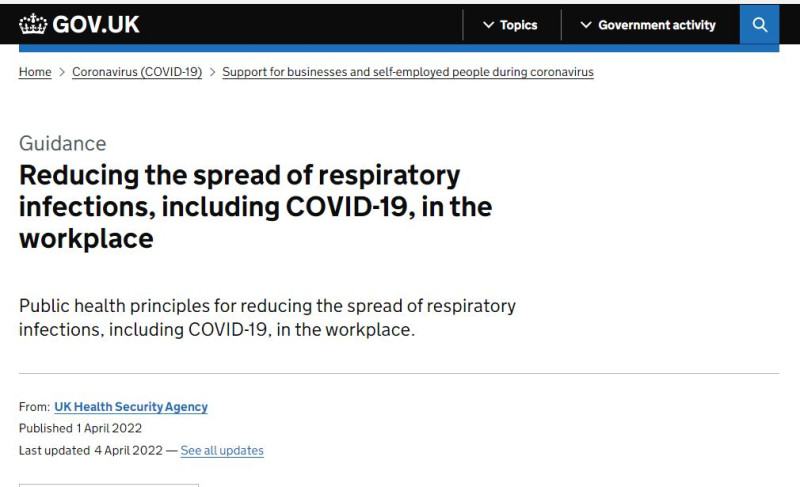 ---
It was perhaps apt that April Fool's Day saw the end of the "Working Safely with Covid" era and the arrival of the new daw – the "Living with Covid" era.
That the new guidance for employers was actually issued late into Friday evening, just before schools broke up for Easter, was no surprise to those who remember the timings of the furlough scheme updates back in 2020!
Employers now need to familiarise themselves with the less elegantly named "Reducing the Spread of Respiratory Infections Including Covid-19 in the Workplace" guidance….
www.gov.uk/guidance/reducing-the-spread-of-respiratory-infections-including-covid-19-in-the-workplace
Alongside this main guidance, other existing guidance has been updated which employers will want to refer to when planning their continued approach to Covid, including:
Here is a summary of the key aspects of the new guidance:
Employers should continue to take actions to reduce the spread of respiratory infections, including encouraging vaccinations, improving ventilation and maintaining a clean workplace.
If an employee is unwell with symptoms of a respiratory infection (importantly to note, not just Covid), they should try to stay at home and avoid contact with other people until they no longer feel unwell or no longer have a temperature. During this period they should try to work from home if they can. If they are unable to work from home, they are advised to talk to their employer about available options. Employers are told they "may wish to consider how best to support and enable their workforce to follow this guidance as far as possible".
If an employee tests positive for Covid, they should follow the same guidance as above, but for a period of five days after the day they took the test. They should avoid meeting people at higher risk of becoming seriously unwell from Covid for ten days after the test.
There remains a small number of people whose immune system means they are at higher risk of serious illness from COVID-19, despite vaccination. People in this group are advised to "work from home if this feels right for you". If working from home is not possible, people in these groups should speak to their employer about what arrangements they can make to reduce the risk. Employer guidance states that "employers may wish to consider the needs of employees at greater risk from COVID-19".
Other people who were previously identified as "clinically extremely vulnerable" are no longer treated any differently to the rest of the workforce (save for those with specific immune system deficiencies). The former category of CEV employees is said to now be well protected following vaccination and are advised to follow the same guidance as everyone else on staying safe.
Employees must be sick or incapable of work to be eligible for statutory sick pay (SSP); they are no longer automatically entitled to SSP for self-isolating. Statutory sick pay will also only be payable from the fourth qualifying day an employee is off work. Employers must consider, of course, what their contractual obligations are in respect of sick pay.
As is well known, the availability of free Covid testing for the general public ended on 1 April 2022. Free tests are now only available for specific groups, including people at risk of serious illness from COVID-19.
There is no longer a legal requirement for employers to consider COVID-19 as part of their statutory health and safety risk assessments (though of course they may choose to continue to do so).
There is no longer a requirement to report workplace outbreaks of Covid.
The government has expressed the intention to "consult with employers and businesses to ensure guidance continues to support them to manage the risk of COVID-19 in workplaces". So whether this will be the last iteration of the government's Covid workplace guidance is as yet unknown.
What now for the management of Covid (or respiratory infections) in the workplace?
It is clear that the government is aiming to "empower businesses to take responsibility for implementing [COVID-19] mitigations" and that it has shifted the management of Covid onto individuals to take personal responsibility for their actions. The language used is suggestive only (individuals "should try to stay at home" and employers "may wish to consider"), without any legal obligation or consequence being imposed. It is also key to recognise that the main employer guidance now refers to "respiratory infections" in general, rather than just Covid, giving a clear signal of the government's intention that Covid should start to be considered and managed by employers and employees alike in a similar way to other infections. The slight issue with that hope is that not many employers (or indeed employees) saw staying at home as a regular occurrence with any other infections pre-Covid (rightly or wrongly) and it would be simplistic to say that things can now return to as they were.
Whether as a business you are ready to remove any or all Covid mitigations just yet will to a large extent depend on the circumstances and demands of your workplace, including perceptions among staff and customers/clients and whether employees are able to work from home. Are you comfortable leaving employees to decide whether potential symptoms justify them staying away from the workplace or do you want to be involved in that decision? Does your approach to sick pay affect the decisions that will be made, and should it?
Living with Covid for employers now means they must make decisions. By moving from strict rules of "must" and "should", to guidance of "may" and "try", the approach taken in the workplace has now firmly been passed to individual employers to determine.
Our Employment Team has advised employers throughout the pandemic and helped a number of businesses to develop and implement the right Covid policies for their workplace. If you are an employer concerned about the lifting of restrictions, our specialist team of Employment lawyers would be happy to assist you further. Please email info@leathesprior.co.uk or call us on 01603 281153.
Note: this article is for general information only and does not constitute legal advice. Specific legal advice should be taken in any particular circumstance.