Leathes Prior's Sports Team have today completed deal which sees Simon Power move from Irish club UCD to Norwich City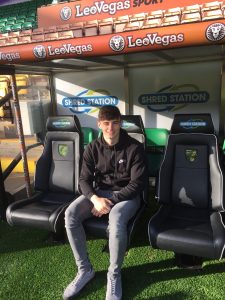 ---
Leathes Prior's Sports offering, Full Contact, represented 19 year old Simon Power as he makes the move from Irish football club University College Dublin AFC to Norwich City FC.
Head of Leathes Prior's Sports Team and Full Contact, Dan Chapman, is one of the few Solicitors nationwide who is also an active FA Registered Intermediary (otherwise known as a "football agent") and works with Patrick Conliffe, also a dual qualified solicitor/agent, based out of Dublin in Ireland. Simon is the latest client to work with the team to make the move from Ireland to the UK.
Norwich City have signed Simon on an initial 18-month contract which will see him initially join the under 23 squad at Carrow Road. Capped by Ireland at Under-19 level, Simon moves to England with both a glowing reputation but also in the knowledge that the hard work begins here.
Head of Leathes Prior's Sports Team Dan Chapman said:
"Simon is a delightful young man who just has a hunger for hard work, football and little else. He has balanced education with his football in Ireland for some time and this summer was the target for him to make the move across to professional football. Norwich showed some keen interest in getting him over for a trial before Christmas, as did other clubs, but this was the club Simon wanted to come to and thankfully for all parties the trial was a success. On a personal note, after running Full Contact for some years, whilst we have represented Norwich City players before this is actually the first time we have had one of our clients signed by Norwich City from elsewhere so, as a Norwich business so strongly aligned to the city and big supporters of the club, it is a moment of huge pride and joy for us. Deals like this involve a lot of work, touching upon cross-border sports law issues and a range of matters that need to be resolved, and it was a delight to work with the excellent staff at Carrow Road and Colney to get this one across the line so early in the January window."
Full Contact has an increasing national following but is delighted to be able to play a part in bringing such a talented youngster to the firm's local football club. All at Leathes Prior wish Simon and Norwich City all the best following this signing.