Leathes Prior winners of six categories in the prestigious Legal 500 Future Lawyers survey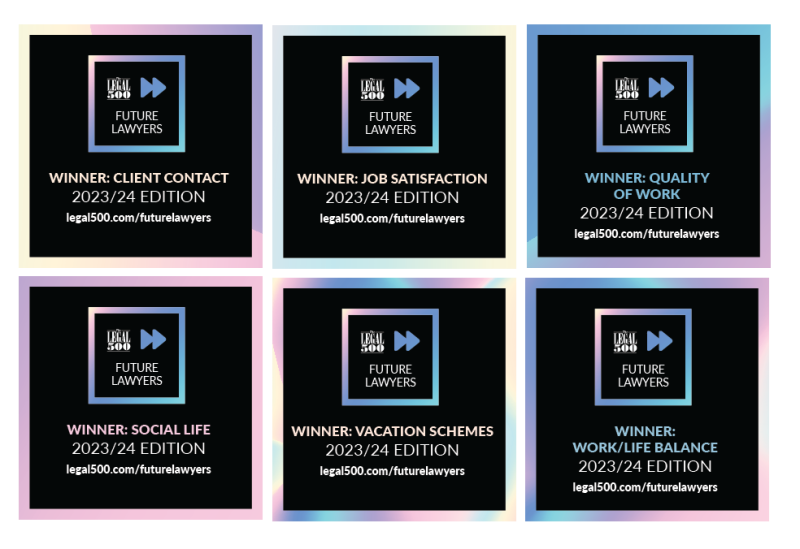 ---
Leathes Prior is delighted to announce that the prestigious Legal 500 Future Lawyers survey has awarded the firm winner's badges in six categories including Social Life, and Vacation Schemes.
It is the seventh year running that Leathes Prior has featured in the top ranked firms for Social Life, having topped the ranks five out of the last seven years and ranked second on the other two occasions including this year. As a firm, the social side is really important to us; we encourage everyone to get together and to socialise across teams. One of the comments made in this year's review reflects that ethos, commenting "the firm's culture is very much anti-hierarchical, in that when I go to the pub after work on a Friday just across from our offices, I always feel like I can have a conversation with anyone – whether it be a fellow trainee or an equity partner."
We are also pleased to announce we have featured high in the rankings for our Vacation Scheme. Our intention is to always offer a true reflection of life as a Trainee Solicitor here at LP through our Vacation Scheme, and this year's high ranking again confirms we have been successful in achieving this.
The firm is also proud to retain a winner's badge in 'Client Contact', 'Work/Life Balance', and be awarded new accolades in 'Quality of Work' and 'Job Satisfaction'.
The Legal 500 Future Lawyers survey bases its rankings on anonymous feedback collected from trainee solicitors in the UK who share their experiences whilst training at their law firm. Using a mix of scores and comments, the responses are gathered to create a profile for each firm which future candidates can look through to help them decide which firm would provide the best fit for their training contract.
The newly released 2023/24 edition of the Leathes Prior profile includes comments on why Trainee Solicitors chose LP:
'It's a local and friendly firm, but also very well established and respected', 'for the social scene, the early responsibility and the number of partners that trained with the firm (i.e., how much they try and retain and progress the careers of their 'homegrown talent')', and 'the location, work/life balance, training and support'.
Leathes Prior's Training Principal, Sarah Appleton, said "I am incredibly proud of the training that we provide to our solicitors here at Leathes Prior, and I am so pleased that has, once again, been recognised in this year's Legal 500 survey. Whilst I am of course delighted to see that our trainees feel they are given a good quality of work and client contract, I am delighted to see that, first and foremost, they feel happy and supported at work; that is for me, an achievement everyone in the firm should be particularly proud of".
In the words of this year's verdict on Leathes Prior: "To receive a 'great deal of client contact and be heavily involved in cases' in an environment where 'all employees are equally supported', consider Leathes Prior." For those ready to find out more on how to apply to join us, please head straight to our Careers page for more information.