Leathes Prior Lex 100 winners in an incredible six categories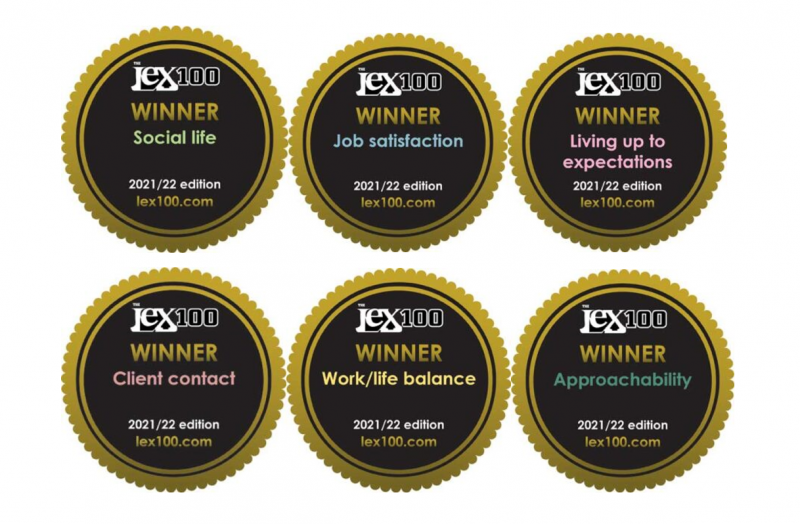 ---
Leathes Prior is delighted to announce that, we have been awarded Lex 100 winners in six categories, including being awarded a winner of the 'the most sociable law firm' in the UK for the fifth year running!
We are absolutely delighted and extremely proud that, during a year of facing the challenges of a global pandemic, the firm has managed to retain that unique, outgoing culture that continues to set us apart from other firms in the UK.
Lex 100 is an anonymous survey that asks over 2,500 trainee solicitors from 119 law firms across the country about their experiences whilst training at their law firm.
As well as again being recognised as a winner for our sociability, Leathes Prior have also been awarded Lex 100 prizes in a remarkable five other categories (for achieving a top 20 national ranking) including job satisfaction, living up to expectations, client contact, work/life balance, and approachability.
The 2021 edition of the Lex 100 report includes feedback such as:
"The firm's culture is evident: truly the most welcoming and supportive work environment I have ever experienced or heard of. You really get the impression that everyone has your best interests at heart and wants to help you to succeed."
The Lex 100 verdict also ends with the following summary:
"With a culture to rival any other, a superb reputation in the region attracting top levels of work, and with excellent training and support, Leathes Prior is hard to beat."
Leathes Prior's Dan Chapman, said "We all missed the close interaction that the pandemic deprived us of, but we took every opportunity we could to ensure that we maintained our spirit and culture. I am delighted that we continue to be recognised for these efforts. To also achieve prize-winning rankings in five other categories was so pleasing and it further justifies the commitment, time and passion that Leathes Prior puts into our trainees, lawyers and ongoing training and purpose. We believe we provide our lawyers with a compelling career path so it was a moment of pride to read that the Lex 100 verdict of us was so glowing. It is not, however, something that is of internal benefit only – our true purpose is to strive to provide an excellent service to our clients every time they instruct us, and we strongly believe that happy lawyers and colleagues make for happy clients."
For more information, see the Lex100 website. The profiles offer a valuable insight into the day to day culture within a law firm and is a great start for candidates starting to think about applying for Insight Events, Vacation Schemes and Training Contracts at Leathes Prior. For those ready to find out more on how to apply to join Leathes Prior - head straight to our Careers page.