Charity Of The Year 2019 - The Final Figure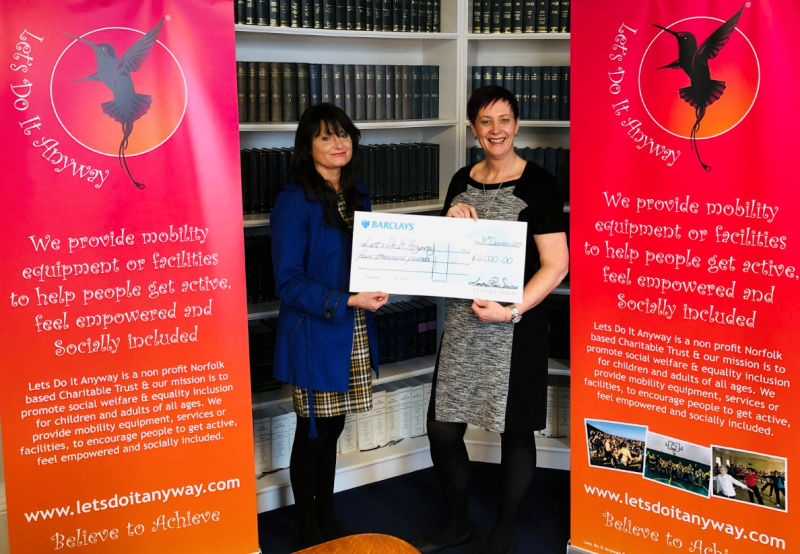 ---
Leathes Prior are proud to announce that last year, we raised £4000 for our Charity Of The Year - Let's Do It Anyway.
Let's Do It Anyway specialises in providing children and adults with appropriate mobility and specialist equipment to encourage them to get active and feel empowered and socially included. They also provide services or facilities to people who are suffering an illness or disability.
The donations from Leathes Prior were initially earmarked to fulfil the December wishes for many recipients, and both Leathes Prior and 'Let's Do it Anyway' are pleased to announce that the below recipients have received their wishes.
The recipients included two-year-old Alfie, born with several bleeds on the brain due to being born early and suffering with Hypoxia, four-year-old Kelsie May who suffered a brain tumour at eight months old and was left with severely-impaired sight, and Tia and Joshua, whose Dad was diagnosed with Dementia at a very young age, in turn impacting the family greatly. Also among the recipients for the December wishes were Katie, a young girl with complex medical needs including Hypnotic Cerebral Palsy and Epilepsy, a young boy named Harry with ongoing complications with a brain tumour, Kieran, a young boy under ten who was born with a heart condition and Harvey, who suffered third degree burns to his face as a result of an horrific accident. Also included were seven-year-old Mia, who started another course of Chemotherapy for Lymphoblastic Leukemia on the day of receiving her wish and seventeen-year-olds Tyler and Matthew who face many complex challenges in their lives.
We are also delighted to announce that wishes were granted for Anna, Faye, Linda, Lydia and Tania, five ladies who all have children with severe medical problems and who regularly support each other through the difficulties. Eight wishes were also granted for children at Mile Cross Primary School, for children who have either faced or are currently going through severe issues.
A special New Year wish was granted for six-year-old Harriet who received a Bone Marrow Transplant, suffers with severe GVHD and Diamond Blackfan Anaemia and has a tracheostomy and breathing difficulties. Harriet's brother is a carer for her and their mother Sarah who also sadly suffered from cancer this year, meaning the whole family have gone through an incredibly tough time. Funds raised from 'Let's Do it Anyway''s Boxing Day Dip has combined with some funds raised by Leathes Prior to deliver a week's stay at Centre Parcs in Woburn, tickets to Woburn Safari Park and also tickets to see a London show of the family's choice, along with a hamper for mum and dad and some fantastic Lego goodies for the children.
Founder and Chair of the charity Tonya Knights said of the news: 'I would like to take this opportunity to say a massive 'Thank you' to everyone at Leathes Prior and to anyone involved and associated with your company who have contributed in some way. Your kind and generous donation really is changing a life for the better!'
Leathes Prior are delighted to have supported such a wonderful charity in 2019, and wish 'Let's Do it Anyway' and the wish recipients the best of luck for the future.