Leathes Prior delighted to announce that all three Trainee Solicitors qualify at the firm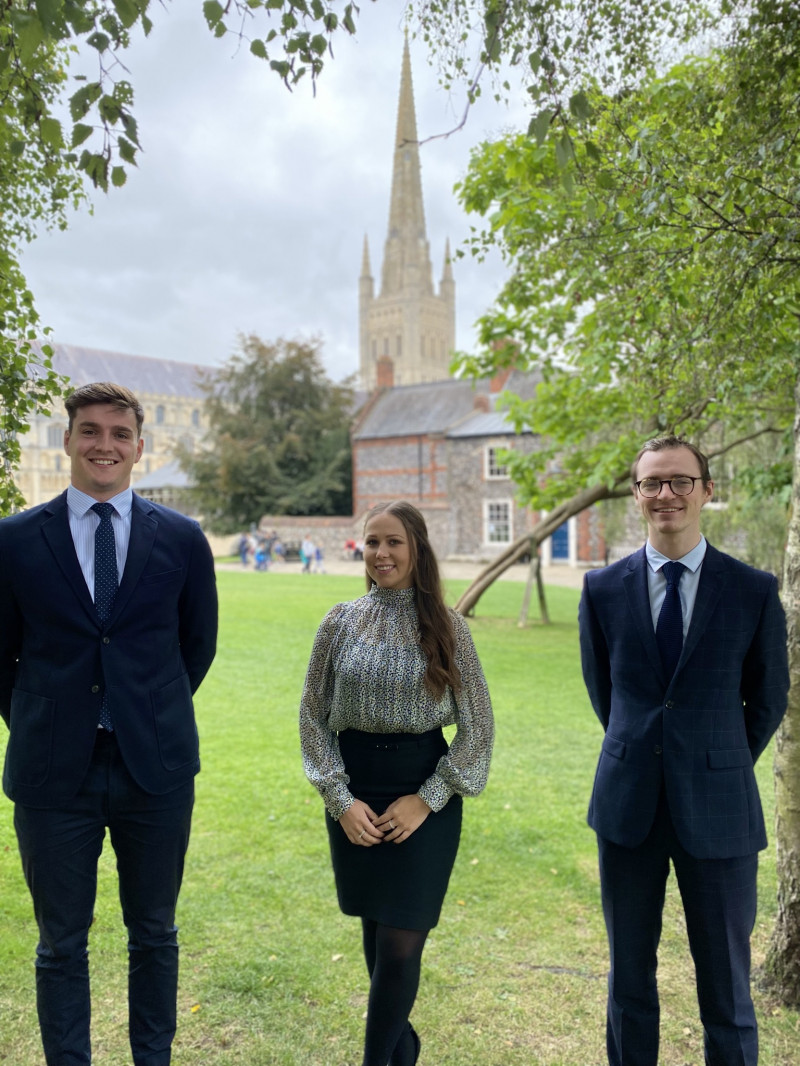 ---
Leathes Prior is delighted to announce that the full 2019 cohort of trainees have been admitted to the roll of solicitors. Ellie Davies, Nick Price and Matthew Hodgson have thoroughly impressed teams across the firm over the course of their training contracts, despite the extraordinary challenges that the past two years have brought. They will now begin their careers as solicitors with the firm, having accepted contracts with our Family, Commercial Property and Employment Teams.
Ellie Davies graduated with a Law and Criminology degree from the University of Sheffield in 2017. After attending the firm's Vacation Scheme in June 2019 Ellie impressed our teams and was offered a training contract to start the same year, finishing her Legal Practice Course (LPC) alongside the training. During her training contract Ellie spent time in three teams, Residential Conveyancing, Family and Employment. Ellie also returned to the Residential Conveyancing team for her fourth seat, supporting them during the busiest months in the Stamp Duty holiday period. Ellie has qualified into the Family Team and will continue to grow the team's outstanding reputation.
Nick Price's journey with Leathes Prior began in 2018 when he completed a week of work experience and later applied to the 2018 Trainee Recruitment Day. Nick initially obtained a Training Contract offer to start in 2020 after his LPC. After graduating with a Law degree from the University of East Anglia in 2019 Nick joined the firm during the summer holidays in a support role, providing very valuable support to our busy Commercial Property team. Not ready to part ways, the Partners offered Nick an earlier training start date in 2019 and he completed his LPC alongside his training contract. During his training contract Nick trained with Commercial Property, Corporate & Commercial, Employment and Commercial Litigation teams. As a qualified Solicitor, Nick will work with our Employment Team alongside our recently recruited James Conley. Together, they will be bolstering one of the largest Employment teams in East Anglia.
Matthew Hodgson completed a week of work experience with Leathes Prior in February 2017 and attended the Trainee Recruitment Day later the same year. After landing a Training Contract with a 2019 start, Matt finished his Law degree at the University of East Anglia and joined the firm after his LPC. Training with our Commercial Litigation, Commercial Property and Corporate & Commercial Teams, Matt returned to the Commercial Property Team to focus on the firm's Agricultural offering for his final seat. As a qualified Solicitor, Matt will remain part of the Commercial Property Team, continuing to grow the Agricultural Team within, alongside Lucy Chambers and Julia Routledge.
Everyone at Leathes Prior are delighted to see Ellie, Nick and Matt take this exciting next step in their career with our teams.
Leathes Prior Training Principal, Sarah Appleton said "I am so proud to see three fantastically talented young lawyers qualify and take the next steps in their careers with us. Ellie, Nick and Matt have had anything but a "normal" Training Contract with us and all of them have gone above and beyond in different ways in their support of the firm and their teams. I have no doubt that the hard work, resilience and adaptability they have shown so far will stand them in good stead for long and successful careers."