Bursting with pride as Solicitor Stephen Wilson returns from the Lisbon ETU Triathlon European Championships with a bronze medal.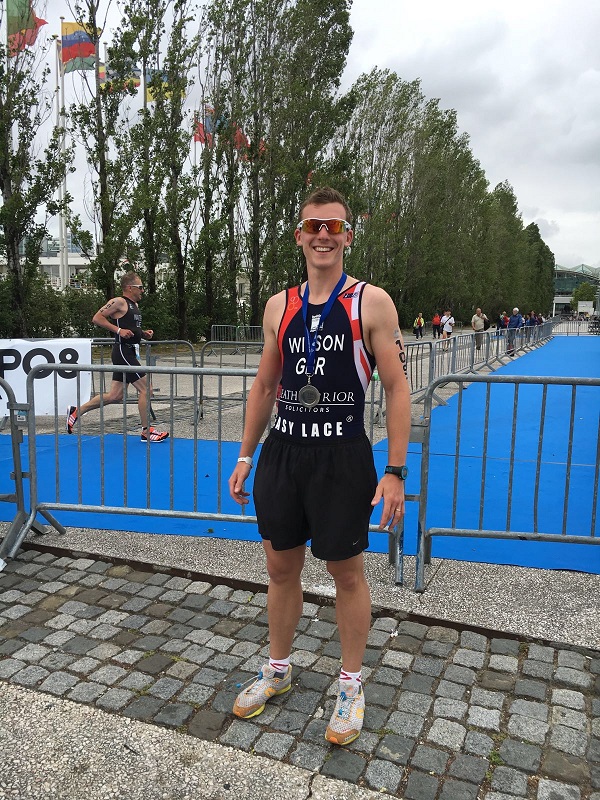 ---
Stephen qualified for the championships by taking fourth place in his age group in the British Championships in St.Neots triathlon last year. With Leathes Prior's sponsorship as support, Stephen travelled to Portugal to represent Great Britain in the championships which took place on 26 May 2016 in Lisbon. Stephen has been competing in triathlons locally for four years and stepped up to the European Age Group scene.
On 27 May, Stephen raced against the best 25-29 year old Triathletes from all over Europe in a sprint distance triathlon. Since qualifying for the European Championships, Stephen trained extremely hard; living a double life working as a solicitor during the working day and training as a triathlete for 7-10 hours a week during his spare time.
Stephen was fifth out of the water after the swim, taking on the 750 metres in 11 minutes and 21 seconds. A quick transition and the second fastest split on the bike put him in a great position to complete the triathlon with a 5k in 18 minutes and 19 second, securing him a bronze medal with a finishing time of one hour, three minutes and 48 seconds.
Stephen said "What an experience racing in the European Championships was. I was very proud to wear the GB Tri-suit and put absolutely everything I had into the race. I am really pleased that the hard work during the winter months has paid off and I was able to bring back a bronze medal. It is an event that I will take with me for life and would like to thank Leathes Prior for all of the support."
The full results detailing Stephen's achievements can be seen here.
Congratulations Stephen!