Poringland Lake Trustees thank Partner and Head of our Residential Conveyancing Team David Clarke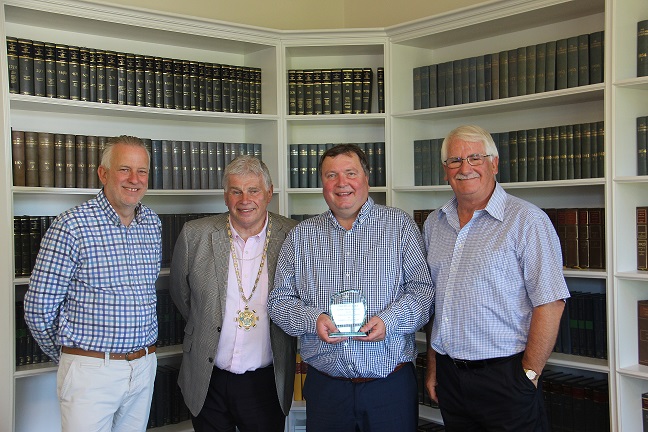 ---
Tuesday 26th June saw Poringland Lakes acknowledge one of their longest serving and committed supporters, Partner and Head of our Residential Conveyancing Team, David Clarke.
David Clarke has provided legal advice to the association for over 15 years. To celebrate the milestone, chairman John Overton (who is also chairman of South Norfolk Council), together with trustees Paul Bonham and Rod Witham, visited our offices to surprise David with a presentation.
For the first time in his career, David was lost for words as he received the engraved glass plaque and presentation wine package.
John Overton said: "David has been associated with the lakes from the very start. He helped us to purchase the land from RMC back in 2003 and has provided us with sound legal advice ever since. David gives freely of his time, so we are really indebted to him. Thanks too to David's colleagues as Leathes Prior who did a magnificent job in keeping the secret and organising the presentation."
The team at Leathes Prior were very touched by the presentation and David extremely grateful for the kind words and plaque from Poringland Lakes. David said: "I was both surprised and delighted to receive this generous award. I have to say however that I consider the assistance I have given amounts to little compared with the huge devotion to the cause voluntarily given by the Trustees, which I have witnessed first-hand with great admiration."