Leathes Prior's Professor Hare & His Magic Library raises £14,000 at Break GoGoHares Auction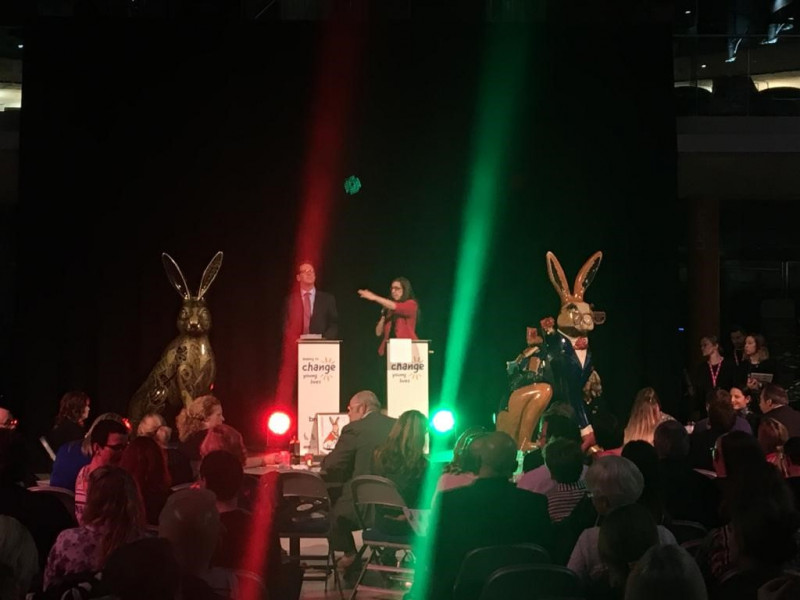 ---
The crowds gathered at the Forum Norwich yesterday (Thursday 11 October) as Break Charity hosted their charity auction to mark the end of the GoGoHares trail. The trail has been a huge success with 50 fantastic hare sculptures positioned across Norwich throughout the summer, as well as 19 moongazer hare sculptures in secret locations across the county, and 164 leaping leverets.
More than £400,000 was raised for Break at the auction as all 50 of the GoGoHares went under the hammer. The team at Leathes Prior were left feeling particularly proud as our sponsored sculpture "Professor Hare and His Magic Library" fetched one of the highest bids on the evening; an astonishing £14,000.
The Marketing Team worked with talented local artist and storyteller Paul Jackson to perfect the design, ensuring he was eye catching, and with plenty of character! Paul Jackson brought the magic library to life with a bookcase sculpted into the back of the Professor and his giant glasses and bushy eyebrows bringing his character to life!
Professor Hare will be going to an excellent home, with the highest bid coming from Chestnut Nursery School, a brand new nursery for Norwich located on Norwich Research Park and also on St Giles. The nursery is one of the UK's leading providers of pre-school education and we can't think of a better place for Professor Hare to go and continue with his story telling.
Leathes Prior are delighted to have supported another year of Break's fantastic sculpture trails by sponsoring a hare and couldn't be happier that such an fantastic amount of money was raised at the auction, a great way to celebrate Break turning 50 and funds that will no doubt make a huge difference to so many young lives across Norfolk.