Leathes Prior's GoGoMosaic dazzles in Tombland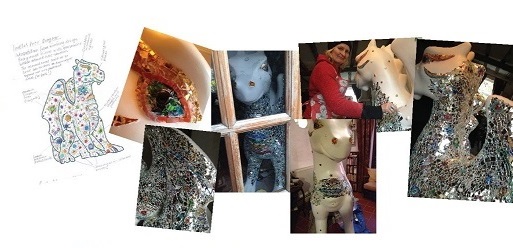 ---
Leathes Prior is very proud to see their sponsored GoGoDragon impressing outside of their offices in the heart of Tombland. The firm paired up with local artist, Carolyn Ash of Mosaic Memories , to design and create their striking dragon; GoGoMosaic.
Leathes Prior sponsors a GoGoDragon following on from the success of the GoGoGorillas in 2013. Norfolk charity Break and Wild in Art have chosen the dragon this year, a mythical creature whose legend is much embedded in the history of Norwich. Leathes Prior is delighted to be supporting the project that brings together families, communities, artists and local businesses. Staff and their families at Leathes Prior had the opportunity to submit their design ideas for the GoGoDragon and the winning design inspired the creation of a mosaic style dragon.
GoGoMosaic was decorated using a surprising variety of materials. Carolyn Ash makes the most of recycling by taking broken pieces of mirror, brooches, crockery, house signs and commemorative pieces and turning them into unique masterpieces. She trained at Great Yarmouth Art College and West Sussex College of Design, specialising in Textiles and Design and now has studio space above the village hall in Castle Acre. She also runs community workshops and networking fairs from the hall. Everyone at Leathes Prior is delighted that their eagerly awaited dragon arrived yesterday.
Charlotte Disney, Business Development and Marketing Manager at the firm, said: "We are delighted to have worked with an artist so actively involved with a number of community projects in the area and someone so passionate about the use of recycled materials. Carolyn has worked so hard to go above and beyond what we could have hoped for and we couldn't be happier with GoGoMosaic. He is an absolute masterpiece and we're more than a little attached!"
GoGoMosaic can be found at number 42 on the official GoGoDragons! Trail Map. The trail is made up of 83 other excellently decorated dragons that will all be on the streets of Norwich until 5 September, before then being auctioned on 1 October 2015. Follow GoGoMosaic on Twitter and Facebook to keep up to date with all of our dragon news!