Leathes Prior Solicitors sponsor Norwich City of Ale festival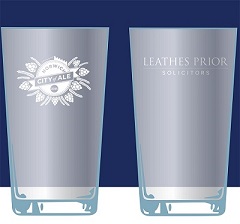 ---
Leathes Prior Solicitors proudly joins the list of sponsors to support the Norwich City of Ale Festival as glassware sponsor. Norwich City of Ale is a not-for-profit organisation with the mission to promote Norwich, nationally and internationally, as the UK City of Ale.
The glassware used for the event will feature an etch effect of Leathes Prior Solicitors' logo for the fifth annual event, which runs from 21st – 31st May. The firm's brand will feature on the glasses which will be 20oz (pint size), in the modern conical style. They are marked with half and third lines to encourage responsible tasting of a variety of fine ales and will be used at the launch event, the Brewers' Market and other events such as pop-up parties.
Last year's City of Ale festival was the most successful to date, with 44 public houses and 39 breweries taking part in the festivities including ale trails, pub quizzes, live music events and tutored tastings of speciality beers. The event attracts more visitors to the city every year with a fifth coming from outside of our local region in 2014, which was nearly double that of the year before! The event will again be a ten day celebration with local pubs and breweries taking part to promote real ale. With a variety of events happening over the course of the festival, there will be something for everyone.
Leathes Prior is delighted to be partnering with the Norwich City of Ale and looks forward to the festival atmosphere in the city, which will hopefully engage those in the local area and far beyond.