Protection of architects' copyright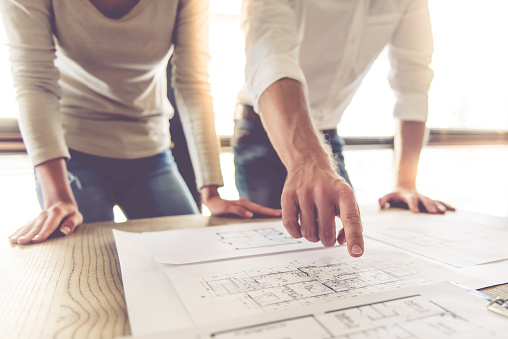 ---
If a developer constructs a building, it is very easy for that developer to go on to sell the building to a third party. There is very little risk to the developer of someone coming along, stealing that building, putting it somewhere else and claiming it as their own.
However, an architect is not in such a safe position. The drawings produced by an architect can quite easily (in practice, anyway, though clearly there are legal barriers) be taken by a third party, reproduced and potentially even passed off as the work of that third party. It is for that reason that architects rely on copyright.
In the absence of an express declaration or agreement as to copyright, the position is as follows (as per the Court of Appeal in Blair v Osborne & Tomkins [1971]): "when an architect is engaged by a client to prepare drawings to obtain planning consent for a development, there is an implied licence to the client to use the drawings for all purposes connected with the erection on the site of the development to which the plans relate, and that the client can transfer that licence to a purchaser of the site". Most architects will insist on a fairly tight express wording for their copyright agreement.
The issue of copyright in architects' drawings came up in Signature Realty v Fortis Developments [2016] EWHC 3583 (Ch), the judgment for which was published earlier this year. Signature Realty Limited ("Signature") are property developers who intended to purchase a site from Branchester International Limited ("Branchester"), and sought planning permission before doing so. They used architects Corstorphine & Wright ("C&W") to produce drawings, and were successful with the planning application. C&W's drawings were covered by an explicit copyright agreement that Signature had a non-exclusive licence to use the drawings in relation to the project. Signature later took assignment of the copyright so as to be able to sue for infringement (hence these proceedings); in other words Signature agreed with C&W to become the party entitled to bring the proceedings.
However, Branchester then sold the site to Fortis Developments Limited ("Fortis"). Fortis had started marketing the property using C&W's drawings even before the purchase was complete. After purchase, Fortis then carried on using the C&W drawings for marketing, development and construction in accordance with planning permission. Fortis used a D&B contractor, Beaumont Morgan Developments Limited ("Beaumont"), which produced its own drawings based on the C&W drawings.
As Signature had never owned the site, and therefore never sold the property to Fortis, Fortis never had the opportunity to obtain an express licence to use any of the drawings. Fortis did not obtain any rights in relation to the planning drawings merely by purchasing the property.
The Court therefore went on to consider whether Beaumont and/or Fortis had breached copyright. The Court explained the usual approach to deciding on whether there has been infringement of artistic copyright. First, identify those parts of the defendant's work that are alleged to have been copied. If the claimant can demonstrate sufficient similarity in the featured work alleged to have been copied, the burden shifts to the defendant to satisfy the judge that the similarities did not result from copying.
The Court will then go on to decide whether what has been taken represents all or a substantial part of the copyright work. As per Lord Hoffman in Designers Guild v Russell Williams [2000] 1 WLR 2416, "generally speaking, in cases of artistic copyright, the more abstract and simple the copied idea, the less likely it is to constitute a substantial part".
In this case, the Court found that the work of C&W was original, and therefore capable of copyright protection, and most (though not all) of the uses by Beaumont and Fortis infringed that copyright. Signature was therefore entitled to damages from Beaumont and Fortis.
It is essential, therefore, that if you need to use drawings that have been prepared by a third party, an express licence is obtained. If a fee needs to be paid for that licence, it is usually better to pay that fee than to have to later pay out damages for copyright infringement.